Google offers virtual tours of Mosfilm film studio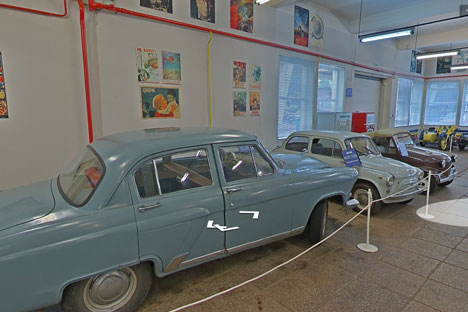 The internet giant has digitized the territory of the legendary Moscow institution.
The Mosfilm studio. Source: Dmitry Korobeinikov / RIA Novosti
The Google Cultural Institute has digitized the territory of the Mosfilm film studio in Moscow, allowing users to take a virtual tour of the legendary film studio's grounds.
The Internet tour of Mosfilm starts at the main gates. It was here that Shurik from Prisoner of the Caucasus uttered his famous phrase, "Slow down, I'm writing it down!" Passing into the courtyard, virtual visitors can see the building that served as the wedding palace in the beloved Soviet film.
Inside the Mosfilm museum, visitors can browse a famous collection of retro vehicles: the Volga from the movie Watch Out for the Automobile and the Rolls-Royce from The Elusive Avengers.
Inside the Mosfilm studio. Source: Google.com
An entire block of Mosfilm was decorated in "Old Moscow" style for Karen Shakhnazarov's film The Rider Named Death. Visitors to the Google portal can see a manor, a pharmacy, a bakery, and a plethora of churches, all in the style of late-19th-century and early-20th-century Moscow. These decorations were later used in the filming of many other films, such as White Tiger and Anna Karenina.
Visitors can also virtually walk along the halls of Mosfilm, where many movies have been filmed. Zhenya Lukashin's famous banya scene in the movie The Irony of Fate wasn't actually filmed in a bathhouse; it was filmed in a Mosfilm room decorated to look like a banya.
More than 2,500 movies have been filmed at Mosfilm. The film studio's archives are lined with folders containing working materials from each of the pictures created there.
Visitors to the Google Cultural Institute can virtually visit the Mosfilm museum and browse archive images taken during filming, as well as study the history of the movies filmed there, original posters, and placards.
First published in Russian in Lenta.ru.
All rights reserved by Rossiyskaya Gazeta.