Andrei Kirilenko to leave Mikhail Prokhorov's Brooklyn Nets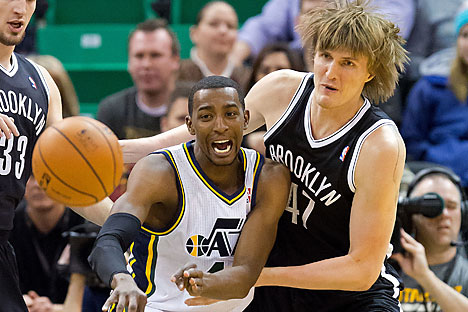 Russian basketball player will sign agreement to play for Philadelphia 76ers
Andrei Kirilenko. Source: Reuters
The Brooklyn Nets NBA club, which is owned by Russian businessman Mikhail Prokhorov, has agreed to transfer the 33-year-old forward Andrei Kirilenko to the Philadelphia 76ers.
In exchange for the Russian, the 76ers will give the Nets the 23-year-old American Brandon Davis and the second-round pick of the 2020 draft. Prokhorov's team will also save $12 million thanks to the reduction of payrolls and tax payments.
According to his contract, this was supposed to be Kirilenko's last year with the Nets. American media reported that the contract will be annulled as soon as the agreement with Philadelphia is concluded. After this he will be a free agent and will be able to sign the contract with the new team.
"This is the Nets' commercial decision," Kirilenko said in an interview with the TASS news agency. "I understand. Unfortunately, things didn't exactly happen like I had expected when I came to the team. There is a certain situation in my private life that requires my attention.
"It's good that the Nets are willing to let me go without any obstacles. Now my contract will be bought and I will become a free agent. I'm occupied with other things now, not basketball. There are certain reasons related to Marusia (Kirilenko's wife, who is pregnant - RBTH). I hope that everything will be decided by February. Then I'll think of what to do next."
In the current season Kirilenko spent most of his time on the bench. He participated in only seven regular-season games, spending an average of 5 minutes and 12 seconds on the floor per game.
Kirilenko's lack of action was due to the resignation of the team's head coach Jason Kidd, whose replacement Lionel Hollins preferred other players to the Russian.
In the current championship Kirilenko scored an average of 0.4 points and had 1.1 rebounds per match. His last game for the Nets was on Nov. 13 against the Golden State Warriors.
All rights reserved by Rossiyskaya Gazeta.