Kandinsky Prize awarded to Pavel Pepperstein (gallery)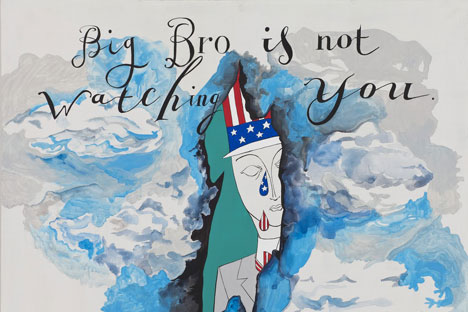 Russian conceptual artist wins main category prize and 40,000 euros
Source: Regina Gallery
The Kandinsky Prize, one of the most important prizes in contemporary art, has been awarded to Pavel Pepperstein, one of Russia's most prominent artists.
Pepperstein, who has had exhibitions in London, Paris, New York and other capitals around the world, received Project of the Year prize in the award's the main category, along with a cash prize of 40,000 euros. The award ceremony took place on the evening of Dec. 11.
The 48-year-old artist, writer and musician was chosen by an international jury for his "Holy Politics" exhibition, which was presented in 2014 at Moscow's Regina Gallery. In the paintings and graphics the artist expressed his view of Russia and Europe's international politics with subtle drawings containing text in the conceptualist spirit.
Pavel Pepperstein has participated in many international projects, including exhibitions at the Fine Arts Museum in Basel, the Louvre in Paris, the New Museum in New York and the Museum van Hedendaagse Kunst in Antwerp.
In 2009 he represented Russia at the Venice Biennale with an installation called 'Landscapes of the Future'. His works can be found in the Tretyakov Gallery in Moscow, in the Russian Museum in St. Petersburg, in the Centre Pompidou in Paris and in many other collections.
The Kandinsky Prize is an independent Russian modern art award. It was established in 2007 by the BREUS International Cultural Foundation and is awarded once a year.
Among the members of the jury this year were Director of the Moscow Multimedia Art Museum Olga Sviblova, Director of the State Pushkin Museum Marina Loshak, and David Thorp, former director of Modern Art Oxford.
All rights reserved by Rossiyskaya Gazeta.