Russian Human Rights Council: Terrorist attack in France an attempt to stifle freedom of speech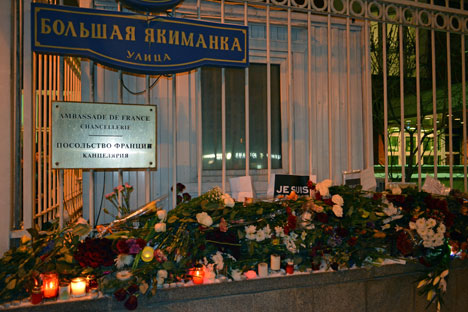 Brutal attack should not be pretext for a witch-hunt among European Muslims, says Council President.
French embassy in Moscow, Jan 8. Source: Flora Moussa
President of the Russian Human Rights Council Mikhail Fedotov has called the terrorist attack on the editorial office of the satirical magazine Charlie Hebdo in Paris an armed attempt to prevent freedom of speech. His comments were made in an announcement on the council's website.
"The callous murder of French journalists is an attempt to prevent freedom of speech at the barrel of a machine gun," Fedotov said. "This cannot be justified: any discussion on the principles of journalistic ethics must be conducted only with living journalists and not with the dead. And, of course, not with a committed patron of terrorism."
The Russian Human Rights Council President expressed certainty that the terrorists responsible for the deaths of the French cartoonists will be apprehended and brought to court.
"It is important that this brutal terrorist attack does not become a pretext for a full-out witch hunt among Muslims living in Europe and does not inspire Islamophobia," Fedotov added. "Otherwise we can say that the terrorists have achieved their goal."
The announcement also states that: "The President's Council of the Russian Federation for the Development of Civil Society and Human Rights extends its condolences to the friends and relatives of those killed in the terrorist attack in Paris."
During the attack 12 people were killed, including the Chief Editor of the magazine Charlie Hebdo. Later in the day tens of thousands took to the streets all over France to remember those that lost their lives in the attack.
First published in Russian in NewsRu.com.
All rights reserved by Rossiyskaya Gazeta.