Andrei Zvyagintsev's Leviathan wins a Golden Globe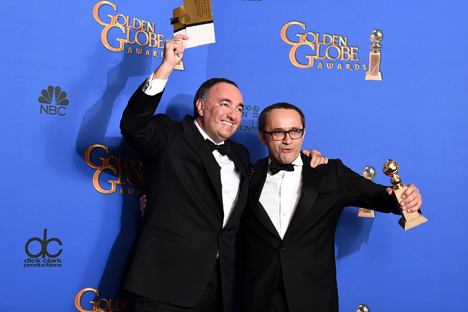 Film a favorite for upcoming Oscars.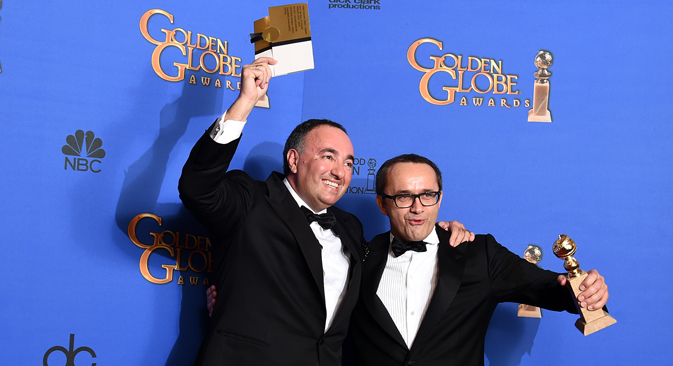 Producer Alexander Rodnyansky, left, and director Andrey Zvyagintsev. Source: AP
Leviathan, director Andrey Zvyagintsev's tale of corruption and everyday life in today's Russia, has won the 2015 Golden Globe award for Best Foreign Language Film.
The other films in the category were "Ida," by Polish director Paweł Pawlikowski, Sweden's "Force Majeure," the Estonian film "Tangerines," and "Gett: The Trial of Viviane Amsalem," about the lives of women in Israel.
Said Zvyangintsev after receiving the award: "Thanks, we are extremely happy!" Producer Alexander Rodnyansky added, "the more we think of destiny of our movie, the more we understand that isn't important who we are and from where."
Leviathan, which won the award for best screenplay at the Cannes Film Festival, has also received the Grand Prix at the 58th London Film Festival, and the festival Grand Prix at the Munich International Film festival.
Leviathan is also Russia's 2015 Oscar nominee for the Best Foreign Language Film. The film made the Oscar shortlist in December. The nominations for the 87th annual Academy Awards will be announced live on Thursday, Jan. 15, 2015. The ceremony will be held on Sunday, Feb. 22.
This news originally appeared in Russian at RIA Novosti.
All rights reserved by Rossiyskaya Gazeta.