Nutcracker magic sends £500,000 Gift of Life to children with cancer in Russia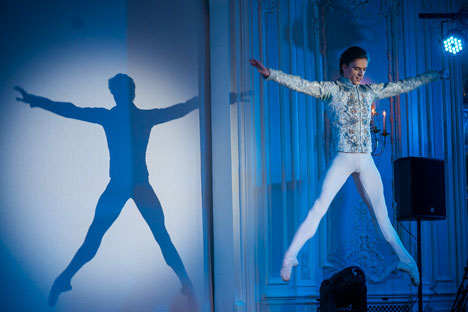 Over £500,000 was raised for children fighting cancer in Russia at the Gift of Life charity Gala that took place at the Savoy Hotel in London on 13 January 2015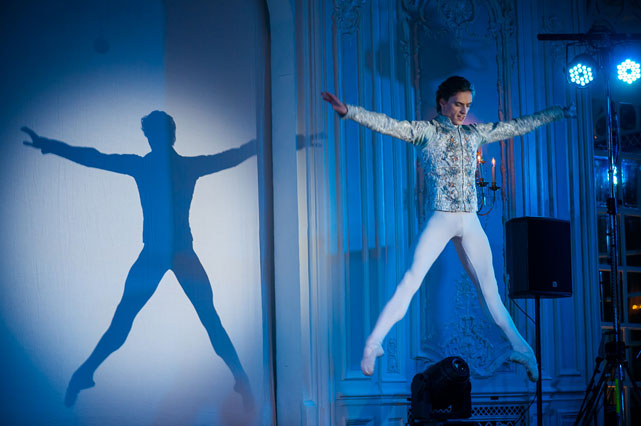 Sergei Polunin dancing Nutcracker at the charity evening. Source: Press photo
Now in its fourth year, this annual fundraiser has become a good tradition and a firm fixture on the London's social calendar. Traditionally organised on Jan. 13 to coincide with the Old Russian calendar New Year's Eve, the event brings together all those who want to give practical support to seriously ill children in Russia.
This year guests included Stephen Fry, UK celebrities and Gift of Life patrons - actress Justine Waddell and singer Katie Melua, world famous dancers – Sergei Polunin and ROH prima ballerina, Natalia Osipova, renowned Russian TV host Vladimir Pozner, Dame Vivien Duffield, actress Ingeborga Dapkunaite, artist Erik Bulatov and one of the world's leading surgeons Lord Ari Darzi amongst others.
The event was hosted by the founders of the charity, renowned Russian actresses, Chulpan Khamatova and Dina Korzun.
The Nutcracker-themed evening was staged by an award-winning Russian avant-garde director Maxim Didenko and featured a performance from the world famous ballet star Sergei Polunin directed by a leading choreographer Igor Zelensky.
One of the evening's special guests, Stephen Fry said: "I am proud to support such an inspiring and warm-hearted charity this evening. Compassion knows no borders and it is wonderful to see how Gift of Life UK brings together so many people from very different backgrounds (within the British and Russian community) with such tremendous hard work and generosity to bring hope to children and their families facing the toughest time in their life."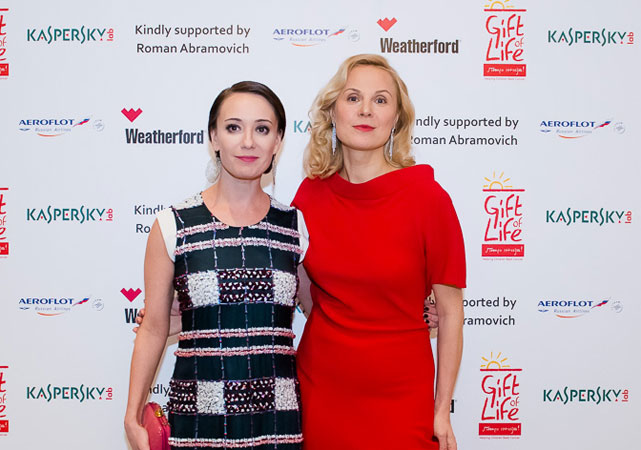 Chulpan Khamatova (L) and Dina Korzun. Source: Press photo
Dina Korzun, Actress and Co-Founder of the 'Podari Zhizn' and 'Gift of Life' Foundations said: 'To the beneficiaries of our Foundation there could be only one true miracle – a recovery from their debilitating illness. While working out the Gala' programme, our dedicated team always bore in mind the true purpose of this gathering: to assist all those who are currently undergoing difficult treatment."
Chulpan Khamatova, Actress and Co-founder of the 'Podari Zhizn' and 'Gift of Life' Foundations added: "All of us - be it Russians or native Brits - got together with one purpose in mind: to raise money for medicines, which will be then used to treat children suffering from leukaemia and undergoing treatment in Russian clinics. We are grateful to all guests of the evening for their kindness, generosity and faith. We have managed to collect more than £500,000, and this amount will help doctors to save hundreds of children's lives."
Gift of Life is a sister organisation of a leading Russian children's cancer charity Podari Zhizn, which works to help thousands of children with oncological illnesses. Founded in 2006 by two Russian actresses, Chulpan Khamatova and Dina Korzun, Podari Zhizn provides help and support to over 4,500 young patients in different hospitals across Russia every year. Over the past few years, the charity has also become a major force for change, campaigning for better medical facilities and better access to medicines and treatment for all.
All rights reserved by Rossiyskaya Gazeta.