Russian politician takes Google to court, claims it 'reads' his private correspondence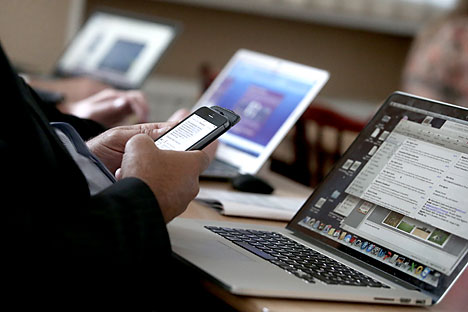 Plaintiff Anton Burkov hopes that Edward Snowden will join him on the case.
Source: TASS
Plaintiff Anton Burkov hopes that Edward Snowden will join him on the case
Russian politician Anton Burkov has filed a lawsuit in a Moscow court to restrict internet giant Google from "reading" his personal correspondence.
On
Feb. 16
the court will begin consideration of the claim submitted by
Burkov, a
former candidate for mayor of Yekaterinburg and chairman of the Monarchist Party of Russia.
"The plaintiff is seeking to prohibit the defendant - Google - from reading his personal correspondence and recover from him moral damages to the amount of 50,000 rubles ($766)," a court representative told the TASS news agency.
In comments to TASS, Burkov said that he is convinced that Google's robot reads his correspondence. "I found it quite by accident, on the right side of my letters, I saw an advertisement and realized that it contains the data of my letters. This means Google's robots are programmed to collect information about users and provide contextual advertising," he said.
Google makes no secret of the fact that it uses information collected on users of its services to generate targeted advertising.
"Of course, I signed without reading the user agreement," said Burkov. "But there is the Russian Constitution, which establishes the right to privacy of correspondence. This means the user agreement contradicts the law. I've come to the court to stop this," he added.
Burkov said he did not expect that the trial would be easy, because the case had a lot of technical subtleties. "Edward Snowden is struggling to prevent the state from reading our correspondence. Google has no right to do this either. Maybe Snowden would like to join me and help out, because he's a good specialist in all of these technologies," said Burkov.
All rights reserved by Rossiyskaya Gazeta.