Putin in World's Most Admired List, sandwiched by Buffet and Beckham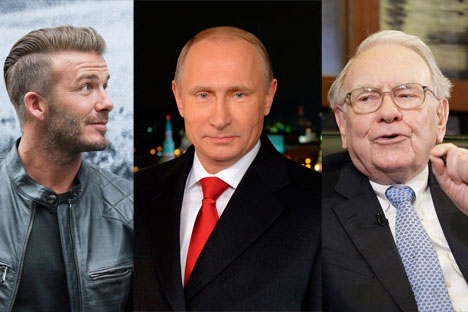 Gates, Jolie top British pollster YouGov's annual ratings.
All photos by AP
Britain's international market research firm, YouGov, published its annual survey of the world's most admired people, February 2.
According to the poll of 25,000 people in 23 countries, the generous and charitable are more admired around the world than global leaders. Microsoft founder, American billionaire and philanthropist Bill Gates tops the list of most respected men, with US President Barack Obama second. Former US presidents Bill Clinton and George W. Bush are placed 14th and 20th. Hollywood actress Angelina Jolie is the top woman, just ahead of Malala Yousafzai, the 17-year old from Pakistan whose work to promote education for girls nearly cost her life in a Taliban assassination attempt, before it earned her a Nobel Peace prize.
President Vladimir Putin, at 11th on the list (compared with 3rd place in same poll a year ago), is the only Russian to make the international chart. British footballer David Beckham is just ahead (joint ninth with scientist Stephen Hawking) and American investment guru, Warren Buffet behind at 12th place.
Country by country ratings put Putin at the top of Russia's men's list with Bill Gates at fourth place and US National Security Agency whistleblower Edward Snowden, who was given asylum in Russia, at sixth. Russians most admire Angeline Jolie, according to YouGov, but also love Queen Elizabeth II (ranked fourth) and German Chancellor Angela Merkel (ninth place).
But the British do not reciprocate the warmth the Russian people feel towards the Queen: the UK's list features no Russians at all. A YouGov survey conducted in cooperation with world affairs think tank Chatham House, published last week, found that the British public has a more negative view of Russia than any other country in the world.
All rights reserved by Rossiyskaya Gazeta.