Lavrov: Excitement inspired by NATO's all-out support will hopefully not harm Kiev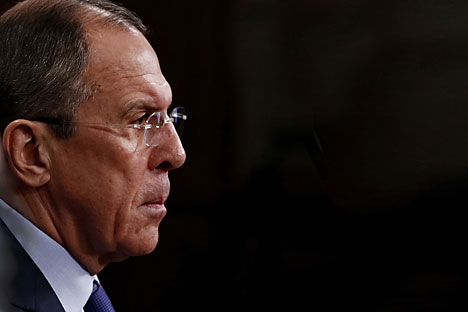 Russia hopes that the feeling of excitement inspired by NATO's all-out support will not do harm to the Ukrainian leadership, Russian Foreign Minister Sergei Lavrov told the press in Munich on Sunday.
"Concerning Ukraine in the context of relations with NATO, and the parallels between Ukraine and Georgia, I did not draw such parallels. NATO members did, when they wrote in a declaration at the Bucharest summit in 2008 that Georgia and Ukraine will become NATO members," he said.
"The fact that this assertion - backed by some members of the Alliance and opposed by others - finally found itself in the official document, played an unseemly role in Mikheil Saakashvili's decision to start a dangerous military campaign in South Ossetia, including against peacekeepers. I have no doubts about that," Lavrov said.
"I do hope - I spoke about that at the conference - that excitement caused by such all-out support will not do harm to the Ukrainian leadership," he said.
European security principle
Lavrov said that awareness has been growing in the West that empty accusations and calls for punishment in connection with the situation in Ukraine should be abandoned, and a discussion should begin on ways to form a stable system of European security.
"The Ukrainian crisis has figured in all debates without exception. To be honest, emotions would sometimes overweigh the desire to provide real assistance to the effort to settle the crisis," Lavrov told journalists.
"During the numerous bilateral contacts - more than 15 in all - with the leading foreign ministers, including the foreign ministers of Germany, the United States, Italy, Austria, Serbia and other countries, with the president of Slovenia, prime minister of Lebanon, the European Union's foreign policy chief, director of the International Atomic Energy Agency, prosecutor of the International Criminal Tribunal , the UN secretary general and other participants, I could feel new sentiment arising, as well as the awareness that attempts to incite emotions in the public space, or engage in empty accusations and calls for punishment, are a way to nowhere," he said.
Lavrov also said that, "committed discussions were held in bilateral formats about the necessity to resolve the crisis in Ukraine, where people are being killed and the nation is failing apart."
"But there were also discussions about what should be done to make the European security system strong, reliable and resistant to all tremors, and not to create spaces that could become gray zones. Such interest was vividly demonstrated," Lavrov said.
"We will continue discussing all of these tasks, both immediate and strategic, with our partners," the Russian foreign minister said.
"We will interact while shaping a single economic and humanitarian space, guided by the principle of indivisible and equitable security for our common region. Just recently this idea aroused quite a lot of skepticism. Now it is winning growing support, especially the idea of direct dialogue between the Eurasian Economic Union and the European Union," Lavrov said.
All rights reserved by Rossiyskaya Gazeta.