Gergiev announces judge panels for 15th edition of Tchaikovsky Competition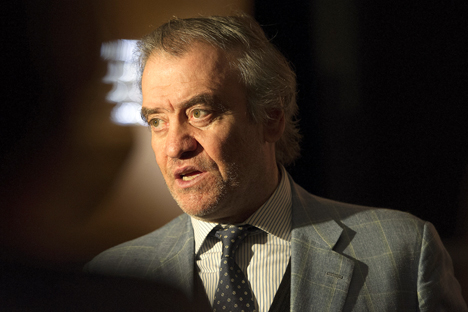 Musicians from U.S., France, Italy and Germany to feature on juries of Russia's most respected music contest
Valery Gergiev. Source: Mikhail Klimentiev / TASS
Valery Gergiev, the head of St. Petersburg's Mariinsky Theater, has announced details of the juries for the 15th International Tchaikovsky Competition, to be held in Moscow and St. Petersburg from June 15 to July 3, 2015. It has been announced that the period for submitting applications for participation will be extended until March 1.
The juries feature a range of distinguished musicians from around the world, including the U.S., France, Italy and Germany.
The panel of judges for the cello section will feature virtuosos Lynn Harrell (U.S.), Mischa Maisky (Israel) and David Geringas (Lithuania), as well as Russians Alexander Knyazev and Sergei Roldugin, and Mario Brunello (Italy), the competition's "golden finalist" in 1986.
The jury for the cello section will also include Clive Gillinson, the artistic director of Carnegie Hall in New York. "Carnegie Hall is sure to be keenly following all these gifted musicians, and not only those that will take away gold," said Gergiev.
Pianist Denis Matsuyev and Paris Conservatory professor Michel Beroff will judge the piano section. British pianists Barry Douglas and Peter Donohoe and one of the patriarchs of piano, Menahem Pressler, are also invited.
The best of the violin section will be chosen by Yuri Bashmet (Russia) and Maxim Vengerov (Israel), Leonidas Kavakos (Greece) and head of the Lucerne Festival Michael Haefliger, as well as performers Salvatore Accardo (Italy) and Liana Isakadze (Georgia).
American bass Samuel Ramey, John Fischer and Sara Billinghurst of the Metropolitan Opera, as well as famous Russian vocalist Olga Borodina, bass baritone Thomas Quasthoff (Germany) and soprano Julia Varady (Hungary), will serve on the panel of judges for the vocal section.
The piano and violin categories will be held in Moscow, while St. Petersburg will host the competition's cello and vocal categories. The best performers in each nomination will be announced on July 3.
According to the organizers, the competition received applications for participation from 28 countries. Contestants in the piano, violin and cello categories must be no younger than 16 and no older than 32 at the time of the competition, while contestants in the vocal section must be no younger than 19 and no older than 32.
Applications for participation are accepted on the competition's website.
First published in Russian in TASS.
All rights reserved by Rossiyskaya Gazeta.