State Tretyakov Gallery appoints new director after sudden dismissal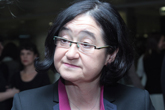 Moscow's largest art museum fires Irina Lebedeva and appoints Zelfira Tregulova in her place
Zelfira Tregulova. Source: Valerij Ledenev / Flickr
Art historian and international curator Zelfira Tregulova has been appointed to the post of director of Moscow's largest museum, the State Tretyakov Gallery, following the sudden dismissal of previous director Irina Lebedeva.
The Ministry of Culture announced the new appointment on Feb. 10, the same day it terminated the contract of Lebedeva, who had headed the art museum since 2009.
"It was quite an unexpected proposal for me, and I won't deny that I took some time to think about it," said Tregulova, commenting on her appointment to the Perviy Kanal TV channel.
"However, I understand that to be director of the Tretyakov Gallery is an incredible honor and an incredible degree of responsibility," said Tregulova.
The Tretyakov Gallery is Russia's foremost museum of Russian fine art and houses a vast repository of works spanning a period of over 1,000 years.
The gallery's press service said that all exhibition plans, including the celebration of the anniversary of Suprematist painter Kazimir Malevich's legendary "Black Square" and retrospectives of 19th-century Russian painters Pavel Fedotov and Valentin Serov, as yet remain unchanged.
In addition to the exhibition plans, the new director has inherited a new building in Lavrushinsky Lane, next to the main building of the museum, which is currently under construction and should be completed in 2018.
Since 2013, Zelfira Tregulova has worked as director of the Rosizo State Museum and Exhibition Center in Moscow, through which she organized projects in Moscow and Russia, as well as a number of exhibitions abroad, including Palladio in Russia: From Baroque to Modernism at Venice's Correr Museum and a Kazimir Malevich retrospective at Amsterdam's Stedelijk Museum and Tate Modern in London.
She previously served as Deputy Director General for Exhibitions and International Relations at the Moscow Kremlin Museum.
All rights reserved by Rossiyskaya Gazeta.