An exhibition featuring WWII in Russian art will be held in London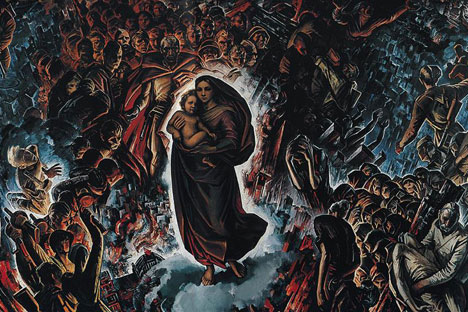 'And Saved World remembers' 1985 by Belorussian artist Mai Dantsig. Source: Press image
The upcoming exhibition in the Saatchi gallery will be the first UK exhibition about the Second World War in Russian art. It will be opened March 13 in Saatchi to mark the 70th anniversary of the Victory in Europe.
"'The Legacy of WWII in Russian Art this spring will showcase paintings and sculptures from Russia, juxtaposing them with graphic works created by Britain's Ministry of Information during the Second World War. The aim is to stimulate a dialogue about the similarities between Russian and British experiences of World War II and examine the legacy war leaves for artists of all nationalities, " the organiser, Art Russe fond, reports.
Art Russe was founded in 2012 by Russian entrepreneur Andrey Filatov 'with the aim of developing a greater awareness and understanding of Soviet and Russian cultural contributions,' according to its official website.
'A Letter from the Front' by Alexander Laktionov or 'Worker and Kolkhoz Woman' by Vera Mukhina and many of others will be exhibited in the UK for the first time.
Curators of the exhibition splited all sculptures and paintings in five groups, what let them discover some themes, common for Russian artists of different generations.
''It's a great honour for Art Russe to present all these art works devoted to the tragic and heroic page of world history to the foreign audience - these work are beloved in Russia but mostly unknown in the West," - Andrey Filatov told ahead the opening of the exhibition.
'The Second World War' will be held in the Saatchi London from 13 March to 6 April.
First published in RIA Novosti.
All rights reserved by Rossiyskaya Gazeta.