Kremlin unaware of Putin character on 'House of Cards'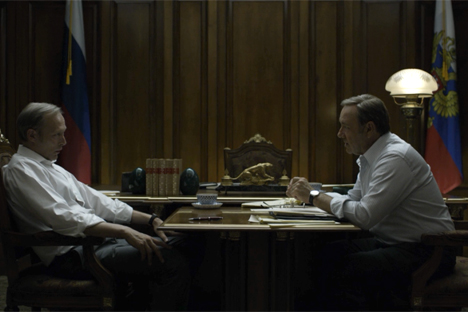 Russian President Vladimir Putin's spokesman Dmitry Peskov told the Russian News Service radio station on Thursday that the president was unaware of the appearance of a Putin-like character in the third season of the popular American TV series " House of Cards."
A frame from the "House of Cards" series. Source: Press Photo
Russian President Vladimir Putin's spokesman Dmitry Peskov told the Russian News Service radio station on Thursday that the president was unaware of the appearance of a Putin-like character in the third season of the popular American TV series " House of Cards."
"We did not watch it, and it was not reported. We did not hear about the character," said Peskov, when asked about Putin's reaction to the appearance of the character of the Russian president in the series' storyline.
"House of Cards" is an American political drama developed and produced by Beau Willimon. In the third season, which was released on Feb. 27, a new character – the president of the Russian Federation Viktor Petrov – features prominently in the plot. Petrov, played by Danish actor Lars Mikkelsen, is widely assumed to be modeled on Putin.
Two sources close to the group producing the TV show said that Tolokonnikova and Alekhina have taken part in the shooting and will appear in a Season 3 episode.
All rights reserved by Rossiyskaya Gazeta.