Russian social FOOTBALL FOR FRIENDSHIP project to unite young football players from Europe and Asia
Children from 24 countries will take part in the football tournament within the International Children's Forum under the aegis of Gazprom.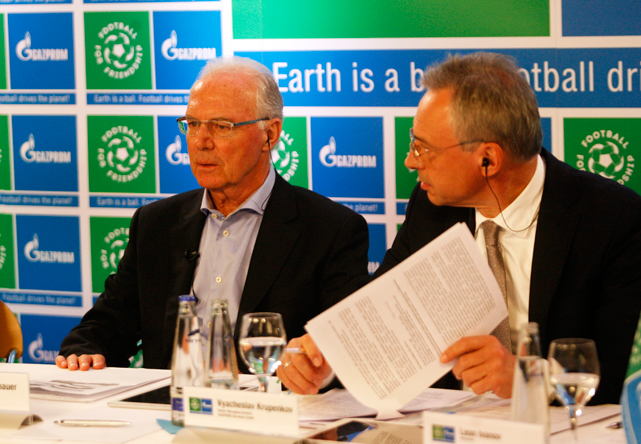 Vyacheslav Krupenkov, Senior Managing Director of GAZPROM Germania GmbH, and Franz Beckenbauer, Global Ambassador of FOOTBALL FOR FRIENDSHIP project in Munich, on March 19. Source: Press Photo
On March 19, 2015, Munich (Germany) saw the start of the International Social FOOTBALL FOR FRIENDSHIP project, implemented by Gazprom since 2013 with the support of UEFA; for the third time the project is being operated worldwide by AGT Communications Agency. Russian gas company will hold the International Children's Forum and Tournament for young football players in Berlin on June 4-7, 2015. Youth football teams from 24 European and Asian countries will take part in the Forum. After the Tournament children will visit Olympiastadion where the Champions League Final – the major European football club tournament – will take place. Besides, the final Tournament, on April 25, 2015, all participating countries will celebrate the International Day of Football and friendship.
The all-time identity of the Tournament is the worldwide famous German football player Franz Beckenbauer. Being the global ambassador of the project, he notes that FOOTBALL FOR FRIENDSHIP has already proved itself as an important social initiative. «Boys and girls, who participated in the 1st and the 2nd Football for Friendship Forums entered into the spirit of mutual respect and became ambassadors of ideas of equality and a healthy lifestyle. Their shining eyes were speaking better than words. I'm sure that young athletes, participating in the project, will do their best to make this world better," – said Mr. Beckenbauer during the press conference in Munich.
Vyacheslav Krupenkov, Senior Managing Director of GAZPROM Germania GmbH, notified that the project is a part of the general social program of Gazprom. According to Mr. Krupenkov, 308 children, both boys and girls, will take part in the Tournament in 2015, including 70 children with special needs. "Even if they don't become famous sportsmen, this is a great opportunity for them to get into the spirit of competition, the spirit of cooperation".
Gazprom is being implementing the International Children's Forum for the third year in a row: since the first 2013 Forum in London, the geography of participants had considerably extended. This year for the first time young sportsmen from China and Japan will take part in the Tournament. Gazprom admits that involvement of Asian countries is important for the organizers. "In 2015 the project has reached the continental level and united Europe and Asia. We are convinced that representatives of China, Kazakhstan and Japan will bring something new into the programme and will contribute to the cultural exchange between the participants", - said Vyacheslav Krupenkov.
All rights reserved by Rossiyskaya Gazeta.