Russia to build new units for China's Tianwan nuclear power plant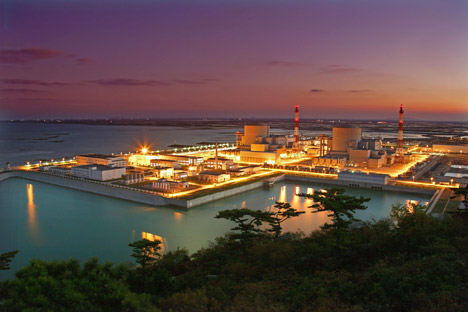 Documents ready to be signed when political approval is given
The Tianwan nuclear power plant. Source: Press photo
Russia and China are holding negotiations on expanding nuclear cooperation, the Prime news agency reports, citing a source close to the talks. The sides are discussing the construction of the seventh and eighth power units of the Tianwan nuclear power plant in China's Jiangsu Province, under the supervision of Russia's state nuclear corporation Rosatom.
According to the Finmarket news agency, the talks on the new power units are drawing to a close and the documents are ready to be signed - all that is needed is a political decision.
The first two power units at Tianwan were commissioned in 2007. In 2009, the sides reached an agreement on the second phase of construction. Rosatom is currently building the third and fourth power units.
The fifth and the sixth units have been mothballed, since the Chinese side began building them on based on its own designs and later suspended the construction, the Vedomosti business daily explains.
It was earlier reported that Rosatom intends to increase its 2015 investment program by 10 percent to 350 billion rubles ($6.3 billion) and expand cooperation with China.
In particular, discussions concern the construction of new power units for the Tianwan nuclear plant and the construction of a nuclear power station in the northern Chinese city of Harbin.
All rights reserved by Rossiyskaya Gazeta.