Russia, U.S. commemorate Elbe Day anniversary with wreath-laying ceremony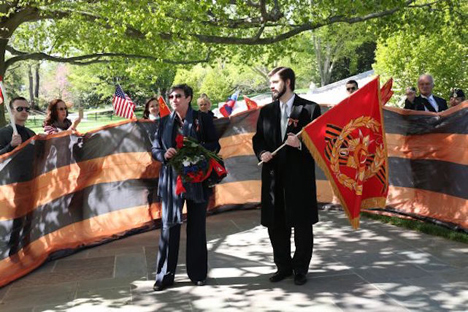 Veterans and diplomats pay tribute to fallen at memorial outside Washington, D.C.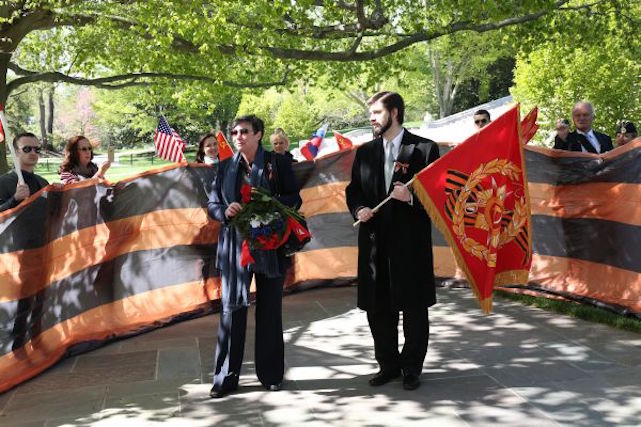 Source: Igor Dunaevsky / RG
Russian and American veterans and diplomats have commemorated those killed in World War II by laying wreaths together at a memorial outside Washington, D.C. to mark the 70th anniversary of the meeting of Soviet and American troops at the River Elbe and the 70th anniversary of the Allied victory.
The ceremony, held on Friday, April 24 at the "Spirit of the Elbe" memorial plaque at Arlington National Cemetery, was also attended by participants in a motor rally across the U.S. marking the historic anniversary.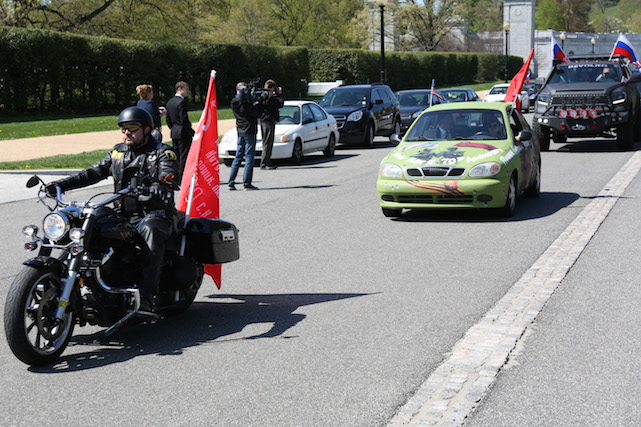 Source: Igor Dunaevsky / RG

A convoy of vehicles decorated with a memorial victory banner, with Soviet, Russian and U.S. flags and WWII victory-inspired aerography, covered a distance of 2,000 miles, having set off on the journey several days ago from Florida. At the ceremony on Friday, participants in the car rally unfurled a 30-meter-long St. George ribbon.
The first wreath to the plaque was laid by veterans, who then gave a salute to their fallen comrades in arms. It was followed by wreaths from the U.S. Department of State, represented by U.S. Assistant Secretary of State for European and Eurasian Affairs Victoria Nuland, and from the embassies of ex-Soviet countries with the exception of Georgia, Latvia, Lithuania, Ukraine, and Estonia, which have ignored the ceremony for a number of years. Schoolchildren and bikers then laid flowers at the memorial.
Russian Ambassador to the U.S. Sergei Kislyak said that it was "a special day for remembering those who sacrificed their lives for the victory, thanks to which we can enjoy freedom from Nazism."
"Russia and all the republics of the USSR made a huge contribution and suffered enormous losses," he said. "But they did it together, they forged the victory together with the Allies. I am glad that our American friends are together with us here today. Irrespective of difficulties in bilateral relations, memory of the great victory is sacred."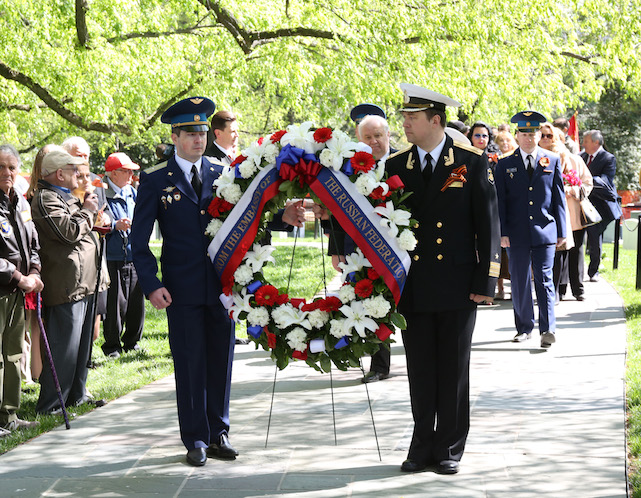 Source: Igor Dunaevsky / RG

For her part, Victoria Nuland said that "it was an important day to remember our joint efforts in defense of a more peaceful world."
"Together we honor the sacrifices of American young people, of young people from across the Soviet Union, including Russians, Ukrainians, Belarusians, for our joint victory over Nazism," she said.
Asked whether events like these could help overcome difficulties in relations, she replied: "It is important for all of us, Americans, Russians to remember what joins us. We are both people with an enormous amount to contribute to the security of this planet and we are working hard to get through this difficult patch together."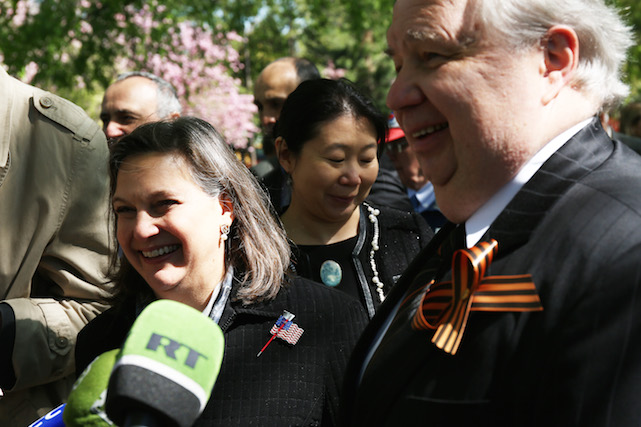 Source: Igor Dunaevsky / RG
The "Spirit of the Elbe" memorial was opened in 1995 to mark the 50th anniversary of the meeting of Soviet and American troops at the River Elbe in eastern Germany in 1945.
After the event, an awards ceremony was held at the Russian Embassy at which veterans were presented with jubilee medals marked "70 Years of Victory in the Great Patriotic War [World War II –RBTH], 1941-1945."
Ambassador Sergei Kislyak expressed "gratitude to the veterans who saved the world from Nazism" and invited them to partake of "front-line porridge and 100 grams" [of vodka].
Source (in Russian): http://www.rg.ru/2015/04/25/elba-site.html
All rights reserved by Rossiyskaya Gazeta.