Ministry of Defense declassifies 'secret' Armata tank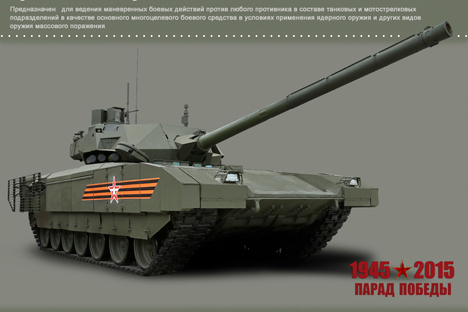 New combat vehicles unveiled at rehearsals for Victory Day parade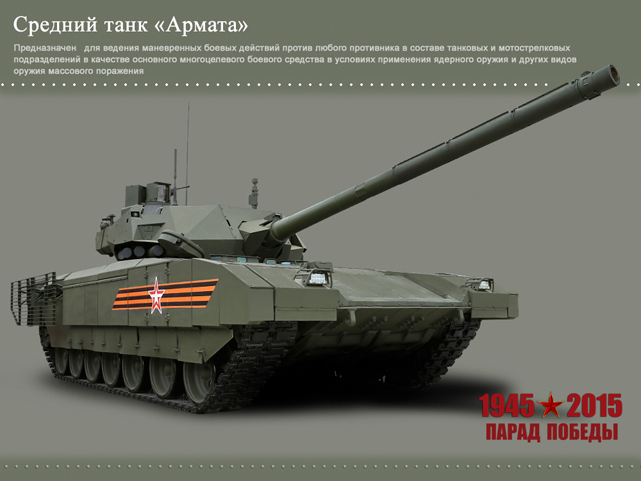 The T-14 Armata tank. Source: Mil.ru
Russia's Ministry of Defense has officially unveiled the new family of combat vehicles based on the Armata platform, including the T-14 tank.
The vehicles, which are to feature in the Victory Day parade in Moscow on May 9, have been participating in rehearsals since April 29. At the first few warm-ups they arrived covered in tarpaulins, but at a night parade rehearsal on May 4, they rolled onto the street uncamouflaged.
On the same day, May 4, the Russian Defense Ministry published on its website photos of the latest military hardware that will feature in the parade, including pictures of the Armata, Kurganets and Bumerang armored vehicles, as well as the Koalitsiya-SV self-propelled artillery system and the Kornet-D1 mobile anti-missile system.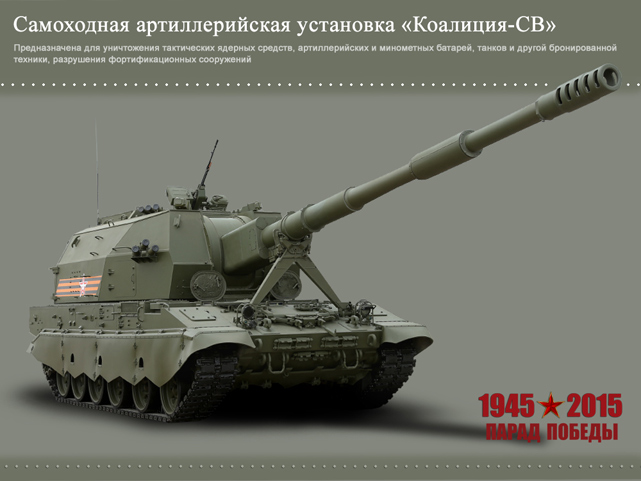 The Koalitsiya-SV self-propelled artillery system. Source: Mil.ru

On the Ministry of Defense's website, the T-14 Armata tank is classified as a medium tank, which raised questions among defense industry experts interviewed by the website Lenta.ru.

The T-14 tank and the T-15 heavy infantry combat vehicle are known to have been developed under the designation "universal heavy-tracked platform Armata."

The weight of the tank, according to available information, is close to 60 tons. It is yet unclear whether its designation as medium is a result of an error or changes in the accepted classification of armored vehicles.

Although the Armata platform has been officially classified until now, a number of photos have found their way onto the internet over the last year.

All rights reserved by Rossiyskaya Gazeta.