Yangon hosts WW2 photo exhibition to mark Victory Day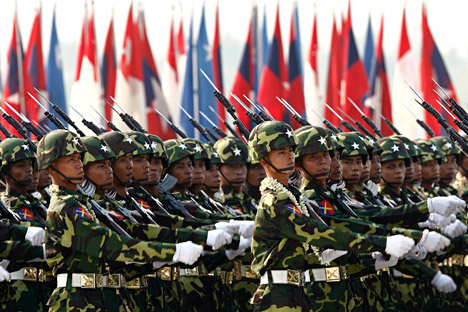 The commemorative program in Myanmar is being jointly organized by the Russian and Chinese governments
Myanmar's soldiers march in formation to celebrate the 62nd anniversary Armed Forces Day in the new capital of Nay Pyi Taw, 350 km north of Yangon, Myanmar. Source: EPA
A World War 2 photo exhibition opened in Myanmar's former capital and largest city Yangon on Wednesday. The exhibition, which is being held to mark the 70th anniversary of the end of the war, was timed to coincide with Victory in Europe Day and is being jointly organized the embassies of Russia and China.
The inaugural ceremony was attended by Yangon Region Chief Minister U Myint Swe, Deputy Foreign Minister U Thant Kyaw, Chinese Ambassador to Myanmar Yang Houlan and Russian Ambassador to Myanmar Vasily Pospelov, according to a Xinhua report. Both ambassadors presented speeches at the ceremony.
Myanmar, then known as Burma, was overrun and occupied by Imperial Japan, which evicted the nation's British colonisers. Britain briefly reoccupied Burma before granting it independence in 1948.
All rights reserved by Rossiyskaya Gazeta.