Russia-Philippines ties set for an upgrade this year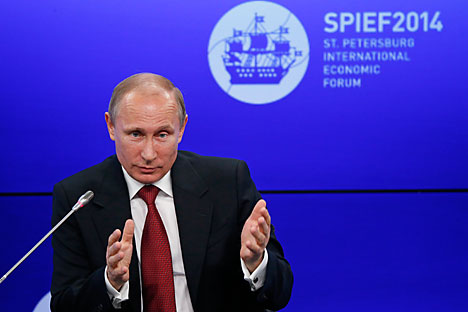 Vladimir Putin will visit the country for the APEC Summit that will be held in November
Vladimir Putin delivering his speech on investments in Russia at the St. Petersburg International Economic Forum. Source: Reuters
Russia and the Philippines will explore mechanisms to upgrade diplomatic and economic ties, during bilateral meetings later this year, sources close to the Philippine Foreign Ministry told RBTH.
Vladimir Putin will visit the country for the Asia-Pacific Economic Cooperation (APEC) summit in November and hold bilateral meetings with his counterpart Beningno Aquino, the sources said.
The Philippines has been a long-standing ally of the United States, but is looking to warm up to Russia, in the wake of its maritime dispute with China. "The Russians may be able to play a role to reign in a belligerent China, with us, as well as Vietnam," a Philippine Foreign Ministry official said on the condition of anonymity, as he was not authorized to talk to the media.
Russia, which hosted the APEC summit in Vladivostok n 2012, has long looked at using the forum to help develop its Far Eastern regions.
All rights reserved by Rossiyskaya Gazeta.