Russian businessman Polonsky and lawyers arrested in Cambodia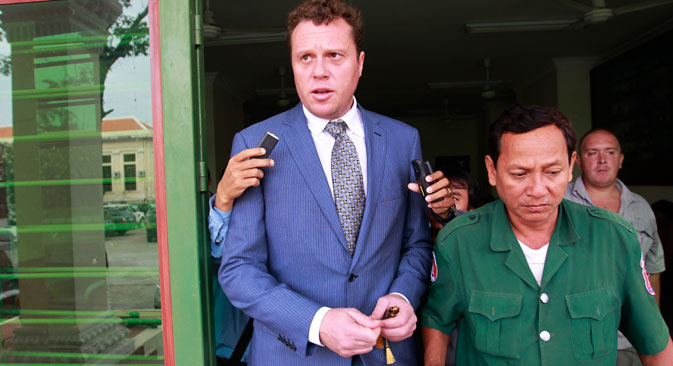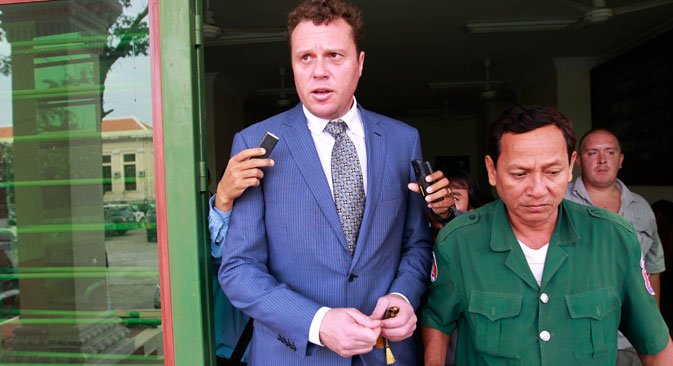 Sergei Polonsky. Source: EPA
Russian businessman Sergei Polonsky has been arrested in Cambodia, his lawyer Slavik Brsoyan told Interfax on May 15.
"Indeed, Polonsky was arrested onboard a yacht. Lawyers who were with him were also arrested," he said.
Soldiers approached the yacht in a boat and detained all people aboard the vessel, Brsoyan said.
"At the moment, the soldiers are bringing something to the yacht and removing something from it. But our representatives are not there. We do not have full information," he said.
Cambodia has imposed travel restrictions on Polonsky who is accused of violence against local sailors and holding them against their will.
The businessman was held in a Cambodian prison from December 2012 through April 2013. He was facing a three-year sentence but the defense team reached an agreement with the plaintiffs, who did not press charges in exchange for compensation. Yet the case remains open.
Russia is insisting on the extradition of Polonsky on the counts of fraud in the construction of an apartment complex in western Moscow. He is also accused of embezzling money from co-funders of another residential area project in the city's west.
Two criminal inquiries into the Polonsky activity have been merged into one. "The fraudulent embezzlement of funds by a group of individuals inflicted material damage of over 2.3 billion rubles on co-funders of real estate projects," the detectives said.
The court ordered his arrest in absentia and put the businessman on the international most wanted list.
In April 2014, the Cambodian Supreme Court rejected the first request for the extradition of Polonsky filed in October 2013, and the Russian Prosecutor General's Office held consultations with the Cambodian Justice Ministry. A new request for the extradition of Polonsky based on the UN Convention against Transnational Organized Crime was lodged with the Justice Ministry of Cambodia in October 2014.
Russia filed its third extradition request in December last year.
All rights reserved by Rossiyskaya Gazeta.