RBTH honors Russian-American cooperation in World War II with special publication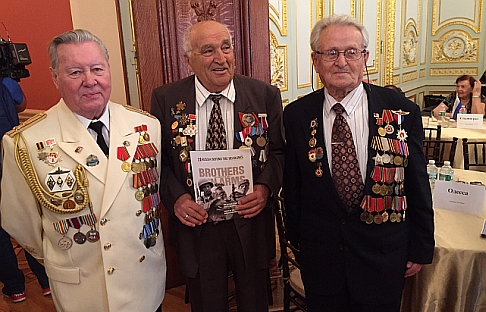 "Brothers in Arms" was distributed at several events held in the Russian Embassy in Washington D.C., the Russian Consulate in New York and at a photo exhibition at the United Nations. Source: Anna Sergeeva

In early May, Russia Beyond the Headlines presented its special edition "Brothers in Arms," commemorating the allied victory over Nazi Germany in World War II. The booklet, which focuses on cooperation between the United States and the Soviet Union during the war, is part of the RBTH project "The Unknown War."
The booklet, which had a limited print run of 3,000 copies, highlights the connections between American and Soviet soldiers. One article tells the story of the first meeting between American and Soviet units at the Elbe River in central Germany. The troops literally rebuilt a bridge over the Elbe, proclaiming it "a bridge of friendship." Another article focuses on the work of a New York archive that has preserved the stories Jewish Soviet veterans. The booklet also includes the story of American paratrooper Joseph Beyrle, who ended up joining the Red Army and fighting alongside new Soviet comrades, and promotes the project of an American foundation that hopes to retrace the historic Lend-Lease route from Alaska to Siberia this summer.
The text in the center of the brochure explores how American and Soviet films influenced how the war was remembered on both sides of the Atlantic, turning "Brothers in Arms" into Cold War enemies.
"Brothers in Arms" was distributed at several events held in the Russian Embassy in Washington D.C., the Russian Consulate in New York and at a photo exhibition at the United Nations. It was also made available to Russian Cultural Centers around the country and 30 American universities, including Columbia University and New York University.
The booklet was also distributed at a meeting dedicated to Victory Day at the UN General Assembly on May 5 and 6 attended by Russia's Permanent Representative to the United Nations Vitaly Chirkin.
"The main aim of this project was to encourage cooperation between the Russian Federation and the United States despite the current tensions in bilateral relations, and to shed more light on our shared World War II history," said Eugene Abov, publisher of Russia Beyond the Headlines. "We think that the 70th anniversary of the end of the war is the perfect occasion to remember that the victory over Nazism was made possible only because of the cooperation between our two countries."
The project was made possible with the support of the Blavatnik Archive Foundation and the Russian Cultural Center in Washington D.C.
"Brothers in Arms" can be downloaded here.
All rights reserved by Rossiyskaya Gazeta.