Russian Daniil Kvyat achieves F1 career-best finish at Monaco Grand Prix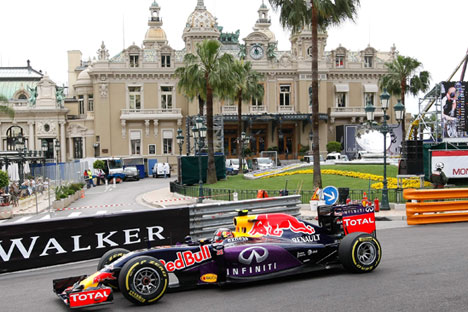 Red Bull driver comes ahead of teammate Ricciardo to end race in 4th
Red Bull driver Daniil Kvyat of Russia steers his car in front of the Monaco's Casino, during the first free practice at the Monaco racetrack, in Monaco, May 21 2015. Source: AP
Formula One's 21-year-old Russian driver Daniil Kvyat has achieved a career-best finish, crossing the line in fourth place at the Monaco Grand Prix.
Kvyat, of Formula One racing team Infiniti Red Bull Racing, overtook his fellow team member Daniel Ricciardo on the last lap of the race on May 24 to set a new personal best – his previous record was ninth. Ricciardo came in fifth.
"This is the best result in my career. At the moment I am happy but there is still a lot of work ahead. We had a good start and a good control of the race, we had speed. We hope to improve further and further," said Kvyat after the race in an interview with Russian sports website championat.com.
"For Kvyat it was a very professional, a very calm race," said Igor Yermilin, an F1 adviser to the president of the Russian Automobile Federation, in an interview with R-Sport agency.
"On other tracks, the situation may not be as encouraging, but we shall see it in the very near future. However, this result makes one confident that for Daniil everything may turn out very positive already by the middle or the second half of the season.
"I was very pleased with the atmosphere in the team. Understanding that Ricciardo was faster on his new tires, Kvyat let him go first… When the team realized that Ricciardo had no chance of making it into the top three, they asked him to cede his place back to Kvyat. It was good to see it," said Yermilin.
Victory in the Monaco Grand Prix went to Germany's Nico Rosberg from the Mercedes AMG Petronas F1 team, with fellow German Sebastian Vettel from Scuderia Ferrari coming in second. Third place went to current world champion Lewis Hamilton, another member of the Mercedes team.
Kvyat's fourth-place finish in Monaco gave him 12 points, moving him up to eighth place in the overall ranking with a total of 17 points. Lewis Hamilton remains the championship leader with 126 points, 10 clear of Nico Rosberg.
All rights reserved by Rossiyskaya Gazeta.