Book on Kremlin history since 12th century brought out in Russia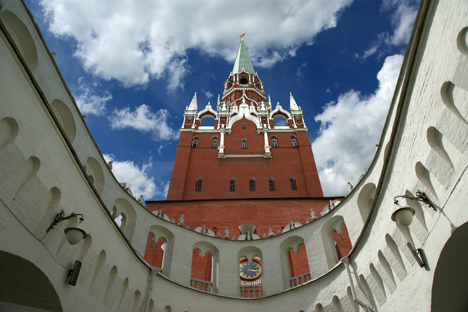 A book, titled 'Moscow Kremlin. Monuments and Shrines' was presented in Moscow on June 2.
The Moscow Kremlin. Source: Lori / Legion Media
A book, titled 'Moscow Kremlin. Monuments and Shrines' was presented in Moscow on June 2.
The author, spokesman for the Federal Security Guard Service Sergei Devyatov, said that he had worked on the book for about six years. The book has been released with a print run of 1,350 copies. It has more than 2,000 illustrations and has been brought out in Russian and English.
"The Kremlin is a purely Russian phenomenon. Historical records have information about 62 Russian kremlins, some of which have survived to this day. The Moscow Kremlin's role is dominant and its phenomenon is in that it is a center of Moscow's big-time political life and a concentration of supreme Orthodox spiritual authority, while being a citadel and powerful fortress," Devyatov said.
The publisher, Yelena Rychkova, said that the book depicts the history of the Kremlin, starting from the 12th century to the present day, as well as the history of the persons and events connected with the Kremlin all throughout this period.
"The book is rich in illustrations and is very informative," she said.
It contains unique old photographs, including a photograph of a religious procession in Red Square in 1918 from the private album of leader of the 1917 Revolution Vladimir Lenin.
"The reader will find several plans of the Kremlin in the book, dated 1812 and 1910, the last pre-revolution plan, the present-day plan and the plan drawn in 1920 and signed by Leon Trotsky's wife Natalya, with notes about the value of various buildings and recommendations as to which buildings need to be erected," Rychkova said.
The 550-page monograph carries unique materials and documents taken from archives, including photographs and plans of the Chudov and Ascension monasteries, formerly located in the Moscow Kremlin.
All rights reserved by Rossiyskaya Gazeta.