Drunken Siberian destroys Lenin monument in 'selfie' attempt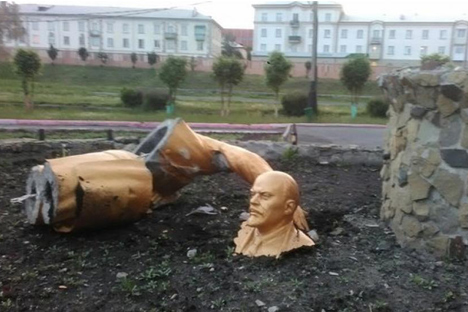 Statue of Soviet leader breaks into pieces after man tries to climb onto it
A Russian man from the city of Prokopyevsk in the Kemerovo Region of Siberia has destroyed a statue of Vladimir Lenin while trying to take a photograph of himself with the Soviet leader.
According to the regional Internal Affairs Ministry's press service, in the evening of June 3, a 30-year-old man decided to take his picture with Lenin.
The intoxicated vandal tried to climb onto the monument, located at the city's Shakhtyor stadium, but slipped and brought most of the statue down with him, which broke up into several parts after snapping off at the knees.
After failing to piece together the fragments, the man left the stadium, leaving his bottle of beer at the scene.
Local police later arrested the culprit after identifying his fingerprints on the bottle. The man had previously had problems with the law and was known to police.He was later released without charge.
The damage is estimated at about 20,000 rubles ($380).
All rights reserved by Rossiyskaya Gazeta.