Japanese clothing brand Uniqlo to be available in Russian regions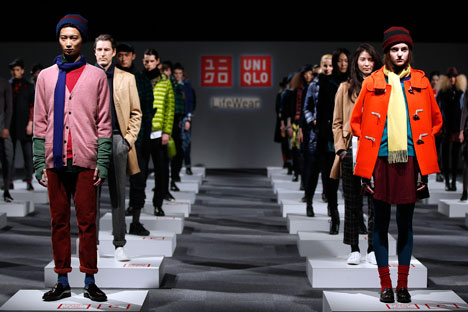 Fast Retailing Co. Ltd is eager to expand its operations to smaller cities across Russia.
Uniqlo fashion show. Source: Reuters
Japan's Fast Retailing Co. Ltd intends to open clothes stores in Russian regions under the Uniqlo brand. The announcement was made by the company's Vice President Noriaki Koyami during the St. Petersburg International Economic Forum's 'Russia-Japan: Prospects for Business Cooperation' roundtable.
For now the brand is represented only in Moscow, he said.
"Currently, there are seven stores operating in Moscow under the Uniqlo brand and we plan on opening our stores in other Russian cities," said the company's top manager. Koyama remarked that to develop the business the company is betting on Russian personnel, including managers.
At the same time, to improve the business climate in the country the government must facilitate customs procedures and improve the logistics network, Koyama underlined. "We will be very active in Russia in the future," he summed up.
Fast Retailing Co. Ltd opened its first store in 1984 in Hiroshima, Koyama said. The first Moscow store was opened in 2010 at Moscow's Atrium.
First published in Russian by TASS
All rights reserved by Rossiyskaya Gazeta.