Capello to continue working as Russian national football team's head coach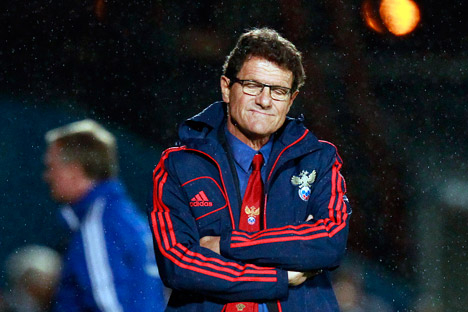 All debts on wages to Russian national football team head coach Fabio Capello and his staff have been cleared, Russian Football Union (RFU) Acting President Nikita Simonyan says.
"Capello hasn't been sacked now. Everything has been settled up with him. With him and his entire staff. I'd like to say thank you to Alisher Usmanov [Businessman Usmanov to provide the Russian Football Union with 300 million rubles to pay salary arrears to Capello - RBTH]. We'll discuss details later. There are some questions. Four games are left [UEFA Euro 2016 qualifiers], and our goal is to qualify for the European championship," Simonyan said at a press conference following an RFU executive committee meeting on Wednesday.
Capello was appointed head coach of the Russian national football team in July 2012. His contract with the RFU was extended for another four years in January 2014. His annual salary is 7 million euro.
It has been reported unofficially that, if the RFU decided to terminate the contract with Capello early, it would have to pay him $25 million in forfeits.
It was reported on Monday that Russian businessman Alisher Usmanov provided 300 million rubles to the RFU to pay the debts to Capello.
All rights reserved by Rossiyskaya Gazeta.