Most Russians sure Russian policy should not change under impact of sanctions - poll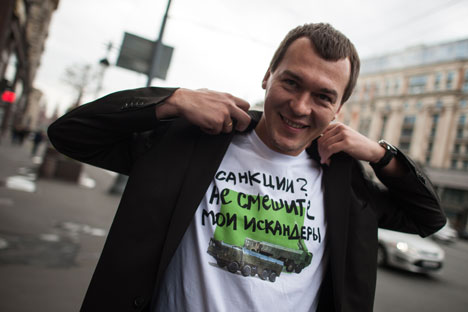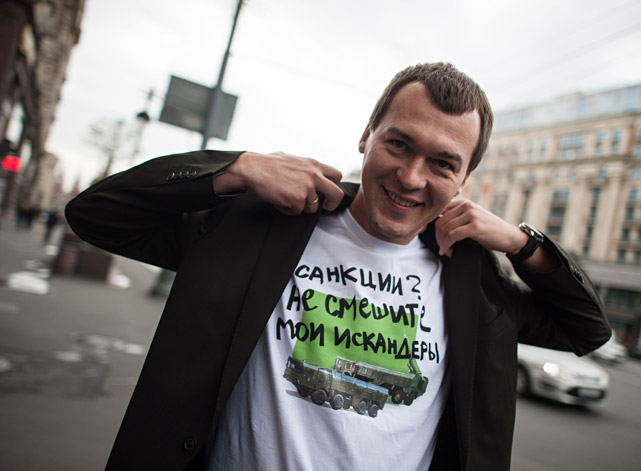 Popular T-shirts feature slogans making fun of U.S. sanctions: "Sanctions? Вon't make my Iskanders laugh!" Source: TASS / Zurab Dzhakhavadze
The ongoing Western sanctions are targeting broad strata of the Russian population, 46% of Russians said in a poll held by Levada Center.
Less than a third (29%) believe that the sanctions apply to "a narrow range of persons supervising the Russian policy towards Ukraine" and 19% are confident that the administrations of Western countries do not give thought to this matter, the sociologists told Interfax.
Thirty-three percent of Russians and their families have felt the effect of the sanctions (compared to 16% in September). Some 62% claimed they did not experience any sanctions-related problems. The poll amongst 800 people was held in 134 populated localities in 46 regions on June 19-22.
Most Russians (70%) believe that Russia should carry on its policy irrespective of the sanctions. Another 20% suggest searching for compromises and making concessions in order to be exempt from the sanctions. Ten percent of the respondents were hesitant.
In the opinion of 66% of Russians, the primary objective Western countries tightening sanctions against Russia is "to weaken and humiliate Russia." A fifth of the respondents (21%) think this is an attempt "to restore the geopolitical balance upset by Crimea's accession to Russia." Only 5% see the sanctions as the wish to stop the war in Ukraine.
Given the Western sanctions, Russians think that the national administration should bolsters economic and military relations with Middle East countries, China and India (this opinion is now voiced by 42% of the respondents, as against 32% in January) and to retaliate with strict countersanctions (38% and 34% respectively).
Other countermeasures proposed by the respondents include the proposals to ignore the sanctions and to carry on the domestic and foreign policy the way it was (37% vs. 32% in January), to increase the defense budget and to allot additional funds for strengthening national defense capacity (16% and 18%, respectively) and to refuse to pay foreign debts (7% and 5%, respectively).
The same as in January, 10% of the respondents said compromises should be found and the attitude to Crimea's accession to Russia should be revised.
All rights reserved by Rossiyskaya Gazeta.