Russia's Chief Justice visits Thailand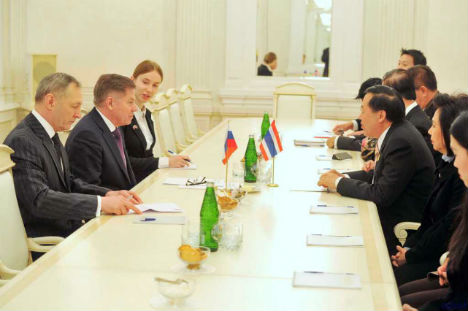 The Thai judiciary is keen to understand Russian judicial practices better.
Source: Press photo
Vyacheslav Lebedev, Russia's Chief Justice visited Thailand last week, as part of an initiative between the countries to understand each other's legal systems better.
Earlier this year, a delegation of judges and lawyers from Thailand, led by Thai Chief Justice Direk Ingkaninanda, visited Moscow and St Petersburg to study the functioning of the Supreme Court and regional and district courts in Russia.
Ahead of Lebedev's visit to Thailand, Ingkaninanda gave a high assessment of his Russia trip.
"We came to the conclusion that we must intensify our relations, and specify how to increase cooperation," Lebedev said. He added that the legal fraternity in Thailand is showing a great deal of interest in the Russian Administrative Code.
"We have agreed to share our legal framework and judicial practices," Lebedev said.
All rights reserved by Rossiyskaya Gazeta.