How do Russians react to 2 men holding hands in public?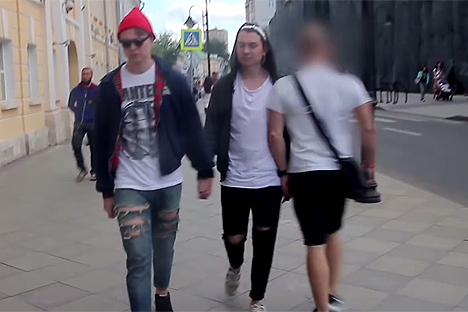 Video experiment attracts 3.5 million views online in less than 2 days
How would Muscovites react to two men walking around the city together like a couple?
Two young Russians decided to find out and shot a short video filming the results. In the video by ChebuRussiaTV, People give the two men weird looks, abuse them, purposely bump into them, and forcefully push them apart and try to start a fight as they stroll the streets of Moscow while holding hands.
Reaction to gays in Russia - social experiment. Source: ChebuRussiaTV / YouTube
The authors decided to make the video soon after same-sex marriages were legalized in the U.S. According to the recent poll by the All-Russian Public Opinion Research Center (VTsIOM), 80 percent of respondents believe homosexuals should not have a right to marry people of the same sex. Only 8 percent said they believe such unions should be legalized and 6 percent say they are undecided on the issue of the legalization of same-sex marriage.
Russians' opinion on the legalization of same-sex marriage
All rights reserved by Rossiyskaya Gazeta.