Dmitry Medvedev planning strategic visit to Kuril Islands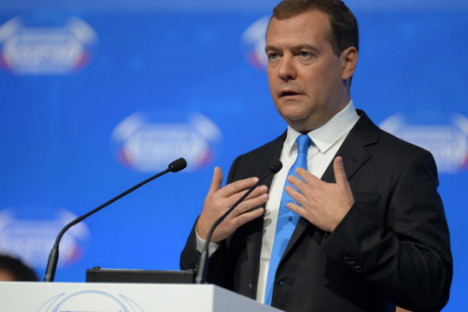 Visit by Russian Prime Minister is aimed at improving military and economic cooperation
Dmitry Medvedev. Source: RIA Novosti
Russian Prime Ministry Dmitry Medvedev has announced that he is to visit the Kuril Islands in order to rapidly develop a strong military presence and economic development, reports news agency Interfax.
At a governmental session, Medvedev highlighted the strategic importance of the disputed chain of Pacific islands, a number of which are claimed by Japan, stating that the combined efforts of the armed forces and the Ministry of Defense are needed to develop both civilian components and defense infrastructures, which will be centered on strengthening border security.
According to Interfax, Medvedev is also keen on promoting tourism in the islands.
"Those who have never been there [the Kuril Islands] should go there," he said.
This visit comes at a time when Japan expects Russia "to be on the same page" in resolving the long time dispute between the islands, reports English-language daily The Moscow Times.
The Kuril Island chain has long been the center of dispute between Russia and Japan, with both countries claiming each of them to their own, with no official peace treaty signed by the two nations after the Second World War.
In an effort to resolve the dispute, the Japan-Soviet Joint Declaration was signed between the two countries in 1956, with Russia proposing to give back two of the islands close to Japan. Tokyo rejected the initiative and since then the dispute has remained unresolved.
All rights reserved by Rossiyskaya Gazeta.