Lenin and Stalin impersonators make peace after row near Kremlin walls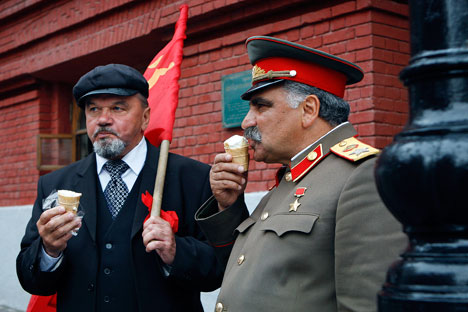 Stalin lookalike attacks colleague with umbrella in public after professional disagreement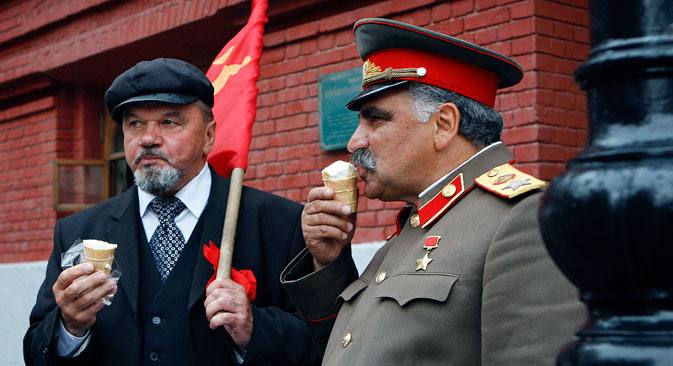 Vladimir Lenin(left) and Joseph Stalin look-a-likes eat ice cream as they share a minute of rest in downtown Moscow. Source: AP
Two Lenin and Stalin impersonators who work in Red Square posing for pictures with tourists have made peace after a serious brawl, the Moskva city news agency reports, citing a source in the law-enforcement agencies.
The two doppelgangers came to blows on June 21 following an argument allegedly caused by professional jealousy: Actor Latifa Valiyev, who dresses up as Soviet dictator Joseph Stalin, attacked Igor Gorbunov (a Lenin lookalike) and hit him with an umbrella because he thought the latter had started working with another Stalin impersonator.
Gorbunov reported the incident to the police. The prosecutor's office for the Moscow Metro – the incident took place near the Okhotny Ryad subway station – took the case under special control.
Now the Lenin lookalike has changed his mind and filed another report saying that he no longer has any complaints against his colleague and asking the police not to punish him. In the second report, Gorbunov said that Valiyev had already apologized to him for the incident with the umbrella.
All rights reserved by Rossiyskaya Gazeta.