Seoul-based band releases Korean version of Mumiy Troll song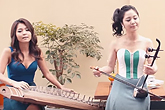 A pop group of triplets, who use traditional instruments, released a Korean version of 'Delfini.'
Infinity Of Sound, a Seoul-based pop band, produced a Korean version of Delfini (dolphins in Russian), a popular Russian song released by a famous Russian rock-band Mumiy Troll in 1998.
The band, which consists of triplet sisters Kim Jin Ah, Sun Ah and Min Ah, use traditional Korean instruments, and is inspired by Russian music. They had already released a cover of Russian legend Alla Pugacheva's Million Roses.
The Korean version of the Mumiy Troll song went viral and has been viewed almost 80,000 times since it was posted on YouTube last week.
Russian viewers have also praised the Korean version of Delfini.
Source: Youtube/Мумий Тролль (Mumiy Troll)
Source: Youtube/1957People
All rights reserved by Rossiyskaya Gazeta.