New Japan-Kamchatka charter flight service in December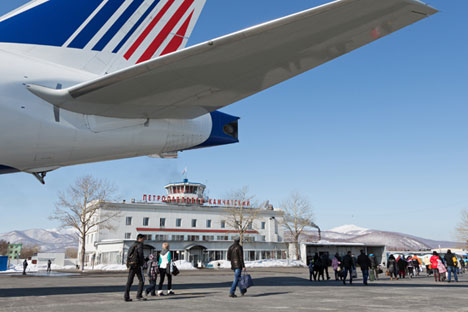 Kamchatka is looking to attract more Japanese tourists in the winter.
Caption Passengers leave the aircraft which delivered them to the Petropavlovsk-Kamchatsky Airport. Source: RIA Novosti/Alexandr Piragis
A new charter flight services from Japan to Kamchatka will be launched in December, Sputnik News reported, citing Kamchatka tourism officials.
"Starting from the end of December and up until the middle of January a new charter program is planned to be launched," Marina Anischenko, Deputy Head of the Kamchatka Tourism and External Relations Agency told the news agency.
There were 10 charter flights between various Japanese cities and Kamchatka in the 2015 summer season, according to the report.
A special charter service was initiated between Japan and the Russian peninsula in 2011 to encourage high-value tourism. The Kamchatka authorities are looking at attracting more Japanese tourists in the winter months.
All rights reserved by Rossiyskaya Gazeta.