Russian police hunt businessman who killed 4 outside Moscow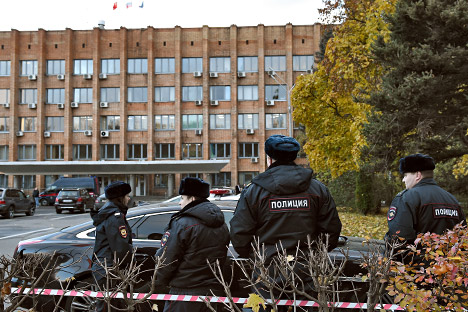 The murder may be linked to the fact that the officials may have prevented the killer from implementing four projects estimated at nearly $60 million. Source: Kommersant
Kommersant
Victims include 2 local officials and gunman's business partner.
Moscow Region police are searching for a businessman who is suspected of killing four people, including two local officials, in the district of Krasnogorsk.
Amiran Georgadze, a well-known local entrepreneur, is alleged to have shot the district's first deputy head Yury Karaulov and its power network director Georgy Kotlyarenko on the afternoon of Oct. 19. in Karaulov's office, killing both before fleeing the scene.
Georgadze is also believed to have killed a local resident and his business partner Trestan Zakaidze, whose body was found in Georgadze's house.
A reward of 1 million rubles (about $17,000) has been declared for information on Georgadze's whereabouts.
Karaulov and Kotlyarenko were acquainted with Georgadze both on a personal and a business level. Georgadze, who has been involved in the construction business outside Moscow for many years, also owned part of the company Krasnogorsk Electric Network, of which Kotlyarenko was head.
Russia's Investigative Committee said it was considering several versions of the crime. According to the investigators, the main version is that the killing of the officials could be related to their professional activities.
As Investigative Committee spokesman Vladimir Markin told Interfax on Oct. 20, Georgadze, who had earlier received government orders for construction projects, has recently been deprived of this opportunity, which could serve as a motive for his assault on the officials.
According to the business daily Kommersant, the murder may be linked to the fact that the officials, with whom Georgadze had previously always on good terms, may have prevented him from implementing four projects estimated at nearly 3.5 billion rubles (about $60 million).
Karaulov himself had also previously been involved in a controversy: In 2011, the official came under investigation and was charged with fraud for dealings related to plots of land for summer cottages.
At the same time, Markin warned against drawing "hasty conclusions" about the cause of the shootings, saying that "all sorts of information about the motives of the killings that are appearing in the media are disorienting and misleading the public."
All rights reserved by Rossiyskaya Gazeta.