Foreign Ministry confirms Jimmy Carter hands in maps with ISIS positions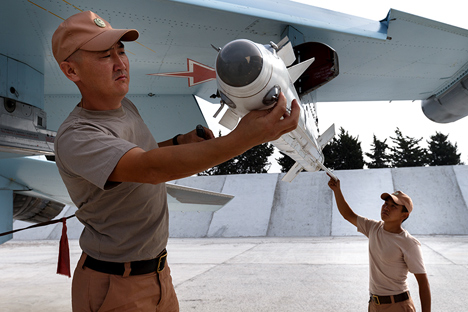 Preparation of the aircraft of the Russian air grouping in Syria for combat sorties.
Mil.ru
Carter has provided the Russian Embassy in Washington with maps depicting the positions of ISIS
A former president of the United States, Jimmy Carter has provided the Russian Embassy in Washington with maps depicting the positions of ISIS militants in Syria, Russian Foreign Ministry spokeswoman Maria Zakharova has said.
"Indeed, Jimmy Carter proposed Russia that he sent us maps drawn by his presidential center, showing the current locations of the warring sides in Syria, including the positions of the government troops, ISIS and other groups," the spokeswoman said at a briefing on Oct. 22.
"The obtained geographical materials are not classified, most of them area available on the center's website led by Carter. At the same time, it was with a big thanks that we accepted this gesture by the former U.S. president who obviously is sincerely calling for joint efforts in the fight against terror and is concerned about the fate of the Syrian people," she said.
Russia hopes Pentagon will follow the example of Jimmy Carter, Zakharova said.
"Of course, from our point of view, it would be far more logical and efficient if the same constructive approach was shown by those who today in Washington have full information on that score and have the power to make political decisions," she said.
It would be quite logical to expect a reply to this Russian request "from another Mr. Carter, namely, the current U.S. Defense Secretary, Ashton," she said.
"Unfortunately, Pentagon has so far dodged not only our proposed exchange of date on ISIS positions in Syria but it has in exactly same way dodged cooperation on, for instance, humanitarian issues," Zakharova said.
"We are talking about search and rescue of military aircraft crews," the spokeswoman said. "Although it might, for example, affect U.S. pilots, among others. As you know, our proposal has been rejected by the U.S.," she said.
All rights reserved by Rossiyskaya Gazeta.