Ministry: Russia's aerospace forces have hit no civil targets in Syria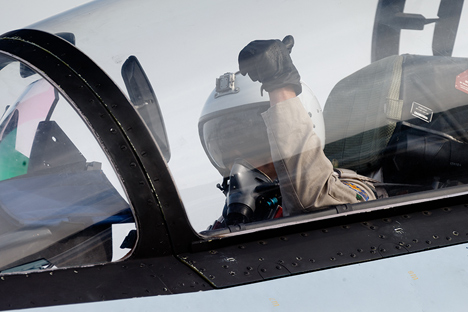 Russian aviation group in Syria
Mil.ru
Some media reported on the alleged deaths of civilians caused by airstrikes
Russia's Defense Ministry has refused a number of foreign media reports on the alleged deaths of Syrian civilians caused by Russian airstrikes hitting a hospital, describing such statements as stove piping.
Recently, English speaking media reported on the alleged deaths of civilian Syrians caused by a Russian airstrike allegedly hitting a 'hospital' in the settlement of Sarmin on October 20, citing the Syrian American Medical Society, Russian Defense Ministry spokesman Maj. Gen. Igor Konashenkov told reporters on Oct. 26.
"We are thoroughly monitoring and analyzing such cases of stove piping. [. . .] Before demolishing any facility of the terrorists, the information is double-checked during several days and through several channels. And once we are one-hundred percent confident about the target, the air force strikes on the ISIS [Islamic State] infrastructure, using an appropriate precision-guided weapon," Konashenkov said.
The Syrian American Medical Society has nothing to do with medicine. Besides, this organization is domiciled in the U.S state of Illinois, he said.
Since it was founded in 2012, this organization has primarily been used for publishing 'evidence' of the alleged use of chemical weapons against the Syrian opposition, he added.
Such organizations are used for the purpose of stove piping, Konashenkov said.
Earlier on Oct. 26, the Kremlin described the media reports that civilian facilities suffered from the Russian airstrikes in Syria as paper hoaxes, as Russian military pilots select their targets very thoroughly.
"During the last few days, we registered plenty of reports, paper 'hoaxes' and premeditated stove piping cases with regard to the impact of the air force operation conducted by the Russian armed forces in Syria," Russia's Presidential Press Secretary Dmitry Peskov told reporters.
"I believe that this must be one of them," Peskov said.
Earlier media reports said that Human Rights Watch, a rights organization, suspected Russia of breaching international law. In particular, the rights activists "urged Russia to take notice of the damage that the Russian air force does to the civilian population in Syria."
"When identifying targets, when using the appropriate data available to the Russian military, their Syrian counterparts, the information and coordination center in Baghdad, special priority is given to the damage prevention of civilians," Peskov said.
He recalled that the Russian military had repeatedly said that "terrorists often hide in residential areas." Anyway, the Russian aerospace forces don't strike on any settlements.
All rights reserved by Rossiyskaya Gazeta.