Ministry on Blair's remarks about Iraq: It was ISIS 'last-choice' measure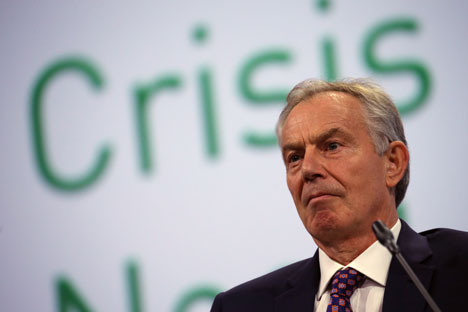 Tony Blair at the St. Petersburg International Economic Forum 2015.
Sergey Savostyanov / TASS
Zakharova calls Blair's remarks that Iraqi invasion contributed to rise of ISIS 'last-choice' measure
Remarks made by former UK Prime Minister Tony Blair that the U.S.-led invasion of Iraq in 2003 had played a certain role in the rise of the Islamic State (ISIS) terrorist organization were a last-choice measure rather than a willingness to analyze the current situation, Russian Foreign Ministry spokesperson Maria Zakharova told the Rossiya 24 television station on Oct. 27.
"It was a last-choice measure rather than the voice of conscience or a willingness to analyze the situation at the present stage," she said.
"Materials simply appeared and it was necessary to comment on them. And, in my opinion, you have no other choice but to reveal your cards when you are being cornered by the facts," she added.
The forecast concerning the outcome of the violent change of power in Iraq under a vain pretext was given by "Russian representatives at the United Nations, in Moscow and at the Foreign Ministry, as well as our experts in other agencies more than ten years ago," Zakharova said.
"We have spoken about this. We said that it would be the beginning of colossal chaos in the region. I think that what has now happened has even exceeded to a certain extent the expectations, those dreary expectations that existed previously," she said.
Russia's Supreme Court earlier branded the Islamic State as a terrorist organization and banned its activities on Russian territory.
All rights reserved by Rossiyskaya Gazeta.