Court bans work of nationalist association Russkiye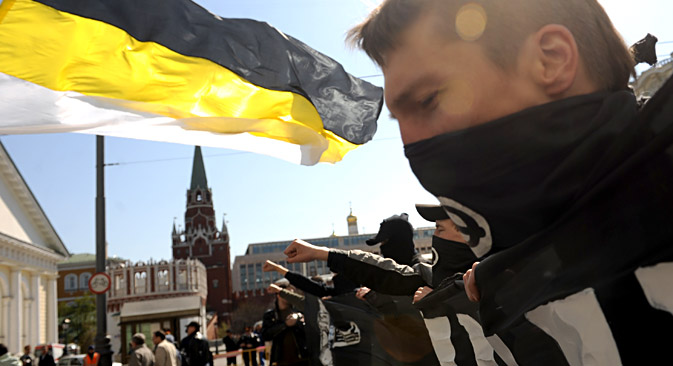 Masked demonstrator takes part in the march organised by the Movement against Illegal Immigration in central Moscow.
Maxim Shemetov/TASS
The prosecutors insisted that the association should be recognized as extremist
The Moscow City Court has upheld the ban on the entire territory of Russia of the unregistered interregional public association Ethnopolitical Association Russkiye led by nationalists Dmitry Demushkin and Alexander Potkin (Belov).
The court agreed with the arguments presented by the prosecutors and recognized the association Russkiye as extremism, an Interfax correspondent has reported.
The prosecutors had insisted that the association Russkiye should be recognized as extremist on the entire territory of Russia, saying that Demushkin and Potkin and other members of the organization had been prosecuted for extremist crimes.
The prosecutor also said Demushkin's account on the social networking site Vkontakte, which has now been blocked, contained extremist information.
The Justice Ministry representative, for his part, agreed with the prosecutors' arguments.
A representative of Russkiye, for his part, tried to convince the court that the prosecutors had failed to provide evidence of the association's extremist activities. He also emphasized that the association is not registered officially. "We can't ban something that doesn't exist," he said.
Demushkin was placed under administrative arrest twice in the past two months for demonstrating prohibited or extremist symbols. The police have detained the radical activist ten times since March 2015.
Alexander Belov, another leader of Russkiye, who is also former head of the Movement Against Illegal Migration, is also under arrest in connection with cases involving the stealing of $5 billion from the Kazakh BTA-Bank, and also the creation of an extremist community in Kazakhstan.
Nationalist Dmitry Demushkin said the association Russkiye has dissolved itself.
"As leader of this association, I announce the dissolution and termination of the work of the ethnopolitical association Russkiye on the territory of Russia. I disagree with the court decision, but I have to obey to enable all members of the association to avoid prosecution," Demushkin told Interfax.
He said the radical activists intend to contest the Moscow City Court's decision in a higher court.
"We will contest it in the Supreme Court, but not to win the case, because we understand that it is now impossible in our country, but to make it clear to the authorities that we disagree with them," the nationalist said.
All rights reserved by Rossiyskaya Gazeta.