FSB calls for stepping up exchange of intelligence data on terrorists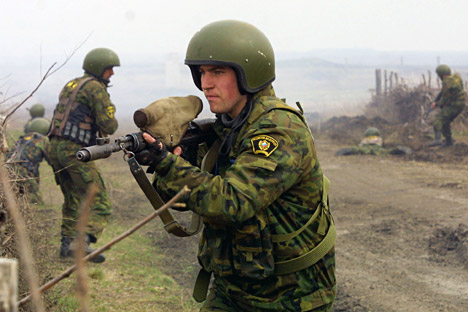 Anti-terror exercise underway in Southern Russia, 2005.
Valery Matytsin / TASS
FSB head said it's necessary to strengthen the external boundaries of the CIS
Federal Security Service Director Alexander Bortnikov has urged CIS colleagues to step up the exchange of intelligence data on terrorists and international terrorist groups.
"We should bolster the exchange of preventive intelligence information regarding personal data of terrorists, their plans and accomplices. We need to constantly control movements of terrorist ideology followers inside the CIS and closer coordinate our efforts in the prevention of militants' travel to conflict zones and back," Bortnikov said at a meeting of the Council of Heads of National Security Enforcement Agencies and Special Services of the CIS on Oct. 28.
It is also necessary to strengthen the external boundaries of the CIS, especially in the Central Asian sector, Bortnikov said.
"We need to liquidate sources financing terrorism and to prevent new recruitments in our countries," the FSB director said.
Leading theologians and clerics, community leaders and experts should be involved in the prevention of terrorist and extremist ideologies, he said.
Bortnikov called extremely important the operative support to the initiative of the Russian and Kazakh presidents to create an international forum "Islam against Terrorism".
The head of the CIS Anti-Terrorism Center will speak about a draft program of cooperation in the fight against terrorism and other violent forms of extremism in 2017-2019 and the events planned for 2016 at the Council meeting, the FSB director said.
The sides will also sum up results of meetings of the Council's working bodies - commissions on cyber security, the suppression of drug trafficking, and scientific and technological cooperation, he said.
All rights reserved by Rossiyskaya Gazeta.