Student Karaulova detained on suspicion of belonging to terrorist group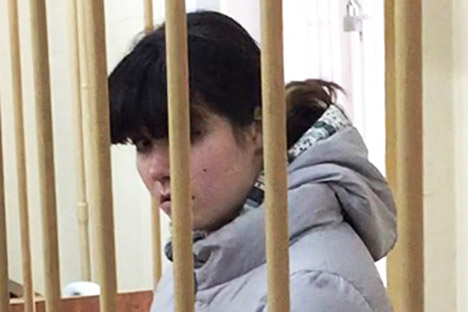 MOSCOW, RUSSIA. OCTOBER 28, 2015. Moscow State University student Varvara Karaulova, suspected of the involvement in the IS terrorist group, appears at a hearing, at the Lefortovsky District Court.
Press office of the Lefortovsky District Court/TASS
Moscow court has ruled to take MSU student Varvara Karaulova into custody
Moscow's Lefortovo District Court has ruled to take Moscow Lomonosov State University (MSU) student Varvara Karaulova into custody in a criminal case in which she is suspected of involvement in a terrorist organization\'s activities, the court's press service told Interfax.
"The court ruled to take Alexandra Pavlovna Ivanova [a.k.a. Varvara Karaulova] suspected of committing a crime covered by Russian Criminal Code Article 30 Part 1 and Article 205.5 Part 2 (preparation for participation in a terrorist organization's activities) into custody until December 23," court spokesperson Yulia Skotnikova told Interfax on Oct. 28.
She explained that the court order in fact applies to Varvara Karaulova.
"She has changed her name and surname," she said.
It was reported earlier that Karaulova, a student of the MSU philosophy department, who supposedly planned to join the Islamic State, was detained in Turkey in an attempt to cross into Syria owing to Interpol\'s cooperation with the local authorities.
Karaulova had gone missing on May 27, 2015, after failing to attend university classes. A lawyer for Karaulova's family said she had taken interest in radical Islamic ideas. On June 11, Karaulova, escorted by Interpol and Turkish migration service officers, departed from eastern Turkey, where she had been held for several days at a migration center along with another 13 detained Russians, for Moscow via Istanbul.<
The Investigative Committee's investigations department for Moscow is probing information indicating that an attempt had been made to recruit Karaulova. Based on its findings, the Investigative Committee is supposed to decide whether to open a criminal case or not. The investigation is also supposed to identify the recruiters who managed to prompt Karaulova to travel to Turkey.
Karaulova had been summoned to an investigator on Tuesday to be questioned regarding the attempt to recruit her.
All rights reserved by Rossiyskaya Gazeta.