Iranian diplomat: It is up to Syrian people to decide fate of Assad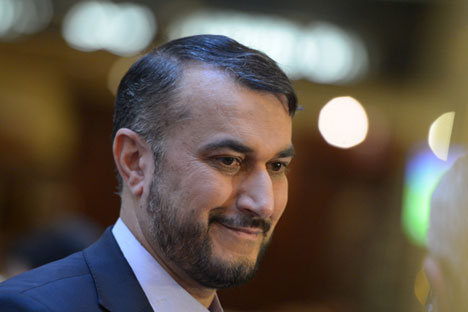 Deputy Foreign Minister of the Islamic Republic of Iran Hosein Abdollahian.
Ria Novosti/Evgeny Biyatov
Only the Syrian people have a right to decide, Iranian Deputy Foreign Minister said
Only the Syrian people have a right to decide whether or not President Bashar al-Assad should further stay in power in the country, Iranian Deputy Foreign Minister Hossein Amir Abdollahian has said.
"Those who want to exclude Mr. Bashar al-Assad from this list ought to know well enough that only the people of Syria can decide the issue concerning his future within the political [settlement] process [in Syria]," the diplomat said.
Abdollahian is a member of Iran's delegation to the meeting on Syria that will be held in Vienna on Oct. 30 and will involve Russia, the United States, Saudi Arabia, Turkey, Egypt, Iran, Iraq, and Lebanon.
The foreign ministers of Germany, France and the United Kingdom, as well as EU foreign policy chief Federica Mogherini and United Nations special envoy for Syria Staffan de Mistura are expected to be present as well.
Iran's deputy foreign minister said earlier that "we are not taking measures to allow al-Assad to stay in power forever as president."
"But we are perfectly aware of his role in the fight against terrorism and the struggle for the national unity of the country," he said.
Observers have assessed these remarks as Iran's readiness to make certain concessions and take a more flexible approach towards the Syrian settlement process.
All rights reserved by Rossiyskaya Gazeta.