Kremlin: Editions such Charlie Hebdo hardly appropriate in Russia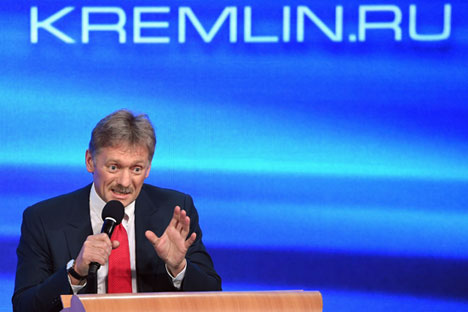 Kremlin spokesman Dmitry Peskov.
Kommersant
Kremlin doubts that edition of Charlie Hebdo could have existed in Russia
The Kremlin has described the French satirical magazine Charlie Hebdo's publication of cartoons about the crash of the Russian Airbus A321 passenger airplane in Egypt as 'unacceptable blasphemy'.
"In our opinion, we in our country call it by one word that just sums this all up - 'blasphemy'. It has nothing to do either with democracy or self-expression. This is blasphemy," Kremlin spokesman Dmitry Peskov told reporters.
"Although I did not have much time, my colleagues and I tried to find cartoons depicting the employees of the Charlie Hebdo magazine who were shot dead by the terrorists. We were unable to find them. If they had been published, it would have been blasphemy as well. At least, this is how we in our country commonly think," Peskov added.
The Kremlin doubts that an edition of the Charlie Hebdo type could have existed or gained support in Russia.
"This is a rather dubious edition and many do not accept it, many feel insulted by what is published by this edition," Dmitry Peskov told.
"Perhaps, such editions are absolutely inappropriate in our public system, our multinational and multi-confessional country," he said.
Peskov noted that Charlie Hebdo "is an unofficial edition with a rather small circulation."
All rights reserved by Rossiyskaya Gazeta.