Russian security services confirm Egypt air disaster was work of terrorists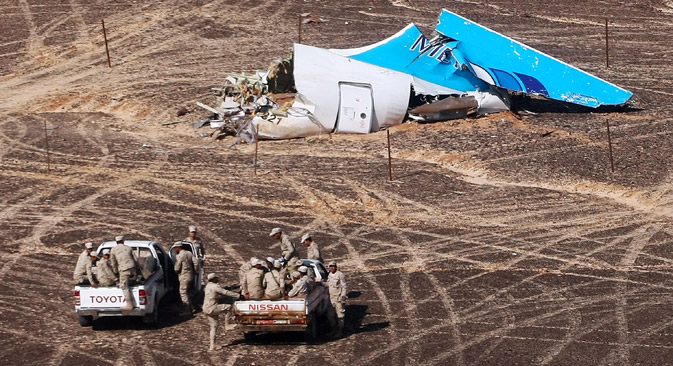 In this photo made available Monday, Nov. 2, 2015, and provided by Russian Emergency Situations Ministry, Egyptian Military on cars approach a plane's tail at the wreckage of a passenger jet bound for St. Petersburg in Russia that crashed in Hassana, Egypt, on Sunday, Nov. 1, 2015. The Russian cargo plane on Monday brought the first bodies of Russian victims killed in a plane crash in Egypt home to St. Petersburg, a city awash in grief for its missing residents.
AP
The FSB says bomb brought down the Russian passenger airliner.
Russian President Vladimir Putin has vowed to hunt down and "punish" terrorists responsible for planting a bomb on a Russian tourist charter flight that blew up over the Sinai desert Oct. 31 with the loss of 224 lives.
The Kremlin chief Tuesday said those responsible had nowhere to hide after Federal Security Bureau (FSB) chief Alexander Bortnikov confirmed suspicions that the Airbus A321 operated by Russian airline Kogalymavia had been destroyed by an explosion.
"A homemade bomb containing up to one kilogram of TNT detonated on board the Airbus A321 during the flight," Bortnikov told the president, adding that traces of foreign-made substances were found in the aircraft's wreckage.
Putin pledged that those who planted the bomb would be subject to an intensive manhunt and would be found, "anywhere in the world."
Speaking at Kremlin meeting, the president said: "This murder in Sinai of our people is one of the bloodiest ever attacks.
"We shall not wipe the tears from our hearts and souls. It will remain with us forever. But that will not prevent us finding and punishing the perpetrators….we shall find them anywhere in the world and will punish them."
Metrojet Flight 9268 crashed over the northern Sinai with the loss of all 224 people on board on Oct. 31, just 23 minutes after taking off from the Red Sea resort of Sharm e-Sheikh - one of Russia's top tourist destinations.
All rights reserved by Rossiyskaya Gazeta.