APEC members must act together to combat terror: Medvedev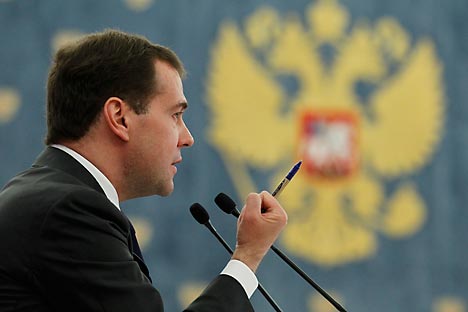 Russian Prime Minister Dmitry Medvedev called on APEC members to act to combat terrorism.
Reuters
Russian Prime Minister calls for coordinated action between APEC members.
Russian Prime Minister Dmitry Medvedev called on APEC members to act to combat terrorism.
"We must fight terrorism all together and the challenge to combat against terrorism would need joint, coordinated, and truly concerted action," Medvedev said in his remarks at the APEC summit in Manila.
"An act of terror with our plane and the terror attack in Paris ... have sharpened the global political agenda," he said. "The war is declared against the whole civilised world. The threat is global and, alas, is real. So the stance of some Western countries on Russia looks weird."
Supporting multilateral trade
The Russian prime minister indirectly hit out at the Trans-Pacific Partnership agreement (TPP). "Trade rules should be universal," he said, without naming the TPP.
Medvedev spoke in favor a multilateral trade system. "We believe that all preferential trade agreements within the framework of APEC… are very important but nevertheless they should not substitute the multilateral trade system and they should not disrupt the already stable economic ties."
Russian economy stable
The Russian prime minister said the country's economy and the financial sector are quite stable despite falling oil prices, a weaker ruble and western sanctions.
"The weakening of the ruble allows foreign investors to buy Russian assets at lower prices, and many take advantage of this," Medvedev said, according to RT.com
Medvedev said the volume of direct investment into the Russian economy from the Asia-Pacific region was worth about $10 billion, according to the report. APEC countries are working to increase investment, actively establishing funds, he said, citing China and South Korea.
Bear diplomacy
Medvedev presented a 530-kilogramme bronze sculpture of a bear to the Philippines, TASS reported.
The bear was placed in the park of sculptures in Manila, according to the report. All the sculptures in the park are gifts from APEC member states.
All rights reserved by Rossiyskaya Gazeta.