Putin: No one outside should impose form of government on Syria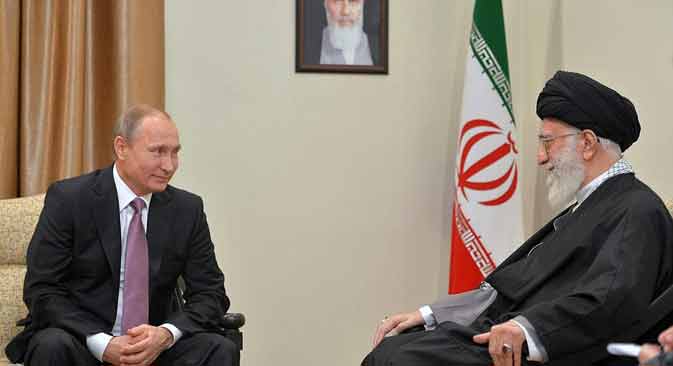 Vladimir Putin and Ayatollah Khamenei discussed Syria, bilateral relations.
Kremlin.ru
Vladimir Putin and Ayatollah Khamenei discussed Syria, bilateral relations
No one can tell Syrians which form of government and which specific leader they must choose, Russian President Vladimir Putin has said.
"No one outside of Syria can and should impose on its people some forms of government and who personally must govern it. This should only be decided by the Syrian people," he said at a meeting with Iran's spiritual leader Ayatollah Khamenei, which was broadcast on the Rossiya 24 television channel on Nov. 23.
The Russian president expressed hope that a solution to the Syrian conflict will be found and will satisfy all religious, ethnic and political forces.
He also noted the importance of Russia's interaction with Iran over the Syrian issue and expressed hope that it will continue in this way.
For his part, Iran's spiritual leader thanked the Russian president for his position on the issue relating to Tehran's nuclear dossier.
"I want to thank you for your efforts in dealing with the Iranian nuclear dossier, at least one can say the goal has been achieved. Of course, we don't trust Americans, we don't know how they are going to behave, but we are trying to move forward with open eyes," Khamenei said.
The conversation with Iran's Supreme Leader Ayatollah Khamenei lasted longer over 1.5 hours, according to the Russian presidential press officer Dmitry Peskov. Putin and Khamenei have discussed issues relating to bilateral relations, including energy cooperation, the situation in Syria and some other issues.
"The discussion largely focused on crises in the common region, primarily it addressed the situation in Syria. The meeting participants had a very detailed exchange of opinions, it was emphasized that Moscow and Tehran agree on the unacceptability of dictating political settlement options from the outside and that there is no alternative to the implementation of this political method by the people of Syria," Peskov told reportes after the meeting.
He said Khamenei gave high marks to the efforts made by Russia to resolve the problems associated with the Iranian nuclear program.
According to Iran's INRA news agency, at the meeting the Russian president presented the Iranian spiritual leader with an ancient Koran manuscript. The meeting between Putin and Khamenei was held on the sidelines of the gas exporting countries forum that is attended by the Russian president.
All rights reserved by Rossiyskaya Gazeta.