Russia preparing sanctions against Turkey over downing of Su-24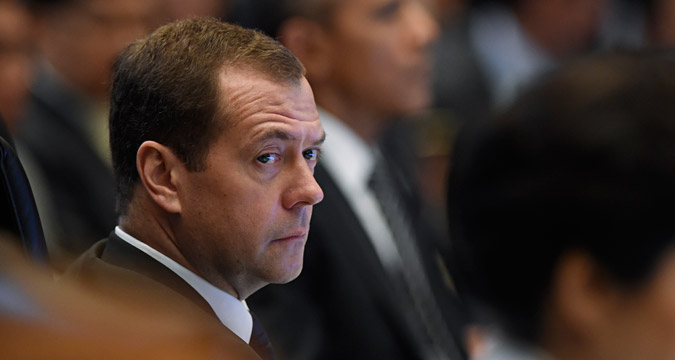 Dmitry Medvedev orders ministries to ready proposals within 2 days
The Russian president has instructed the country's government to adopt economic measures in relation to Turkey following the attack on a Russian Su-24 military jet in Syria, Russian Prime Minister Dmitry Medvedev has said.
"The government has been instructed to formulate a system of measures in the economic and humanitarian spheres to respond to this act of aggression," Medvedev told a Russian cabinet meeting on Nov. 26.
"Such decisions will be adopted on the basis of the Dec. 30, 2006 law on special economic measures," the prime minister said, adding that this law, "in fact, is intended to tackle such situations and applies to issues of maintaining our security."
"It includes the following set of measures - it is both a suspension of the implementation of economic cooperation programs, restrictions on financial operations and foreign trade deals, changes of the import and export duties, measures of influence on the tourism sector and transportation, including by air and by water, as well as humanitarian contacts," Medvedev said.
Dmitry Medvedev has instructed ministries and other agencies to prepare proposals on possible restrictions against Turkey within two days.
"These documents will introduce restrictions and bans on the activity of Turkish economic entities on Russian territory, restrict ban delivery of products, including food products, and services by Turkish companies, and other restrictive measures," the prime minister said.
"I also propose phasing out negotiations on drawing up an agreement with Turkey on the preferential treatment of investments," Medvedev said.
The proposals must be submitted within two days, he said. The period of measures will depend on the international situation.
Medvedev has called the destruction of Russia's Sukhoi Su-24 plane as an act of Turkish aggression against Russia.
"This is a definite act of aggression against our state coming from Turkey, our neighbor, moreover a member country of the North Atlantic alliance," Medvedev said.
Medvedev described the action as "a crime" and said "military and diplomatic measures responding" to it "had happened and more would follow."
All rights reserved by Rossiyskaya Gazeta.