Russian Emergencies Ministry delivers 300 power generators to Crimea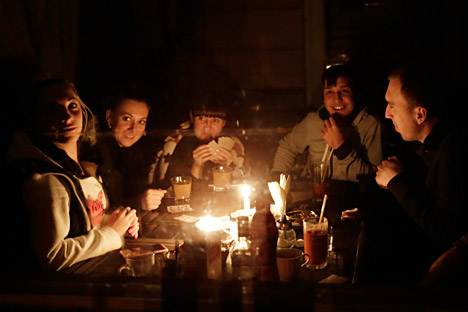 People play cards in Simferopol on Nov. 22, 2015.
AFP/East News
A ministry aircraft had previously delivered 300 power generators on Nov. 24
A Russian Emergency Situations Ministry aircraft has delivered 300 mobile power generators to Simferopol to ensure power supply to socially vulnerable institutions and rural communities, the ministry said on Nov. 26.
"An Emergency Situations Ministry Ilyushin Il-76 aircraft carrying 300 mobile power generators, their output ranging from four to six KWt, has landed at Simferopol airport. The airliner is being unloaded now," it said.
An Emergency Situations Ministry aircraft had previously delivered 300 power generators to Crimea on November 24.
All socially sensitive institutions in Crimea, including Sevastopol, where people work round-the-clock, and also potentially dangerous sites, have been connected to reserve power supply sources. Residential buildings are being supplied with electricity on a rotational basis, in keeping with the Krymenergo power company's schedule.
Simferopol airport, railway station, and ferry line are operating as usual. Local residents are provided with targeted assistance, with special attention paid to seniors, children, and large families.
It was reported earlier that the Emergency Situations Ministry's national crisis management center took the delivery of mobile generators and other necessities to Crimea by road, by rail, and by air under special control.
All rights reserved by Rossiyskaya Gazeta.