ISIS-linked Syrians in Thailand looking to attack Russians- report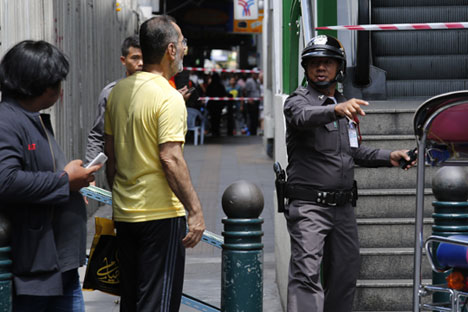 A Royal Thai police officer tells locals and tourists to leave the scene after a suspicious package was detected near a skytrain (elevated light rail) station in downtown Bangkok, Thailand, 19 August 2015.
EPA
Ten Syrians allegedly entered the country to attack Russian interests
Ten Syrians linked to Islamic State (ISIS) entered Thailand in October to attack Russian interests, Reuters cited the Thai police as saying in a leaked document.
The leaked document cited information from the Russian Federal Security Service, according to the report.
In the document, marked "Urgent" and dated Nov. 27, Thai Special Branch police called for an intensification of security around "target areas that Russian authorities are concerned about," according to the report.
The document says 10 Syrians "related to" ISIS entered Thailand between Oct. 15 and Oct. 31," according to the report.
Reuters cited the Special Branch as saying that four of the suspects traveled to Pattaya, two to Phuket, and two to Bangkok and two to an unknown destination.
Thai Police had not received warnings about ISIS activity from any other foreign intelligence agency, the news agency cited Deputy Police Spokesman Songpol Wattanachai as saying.
At the moment, no official alerts have been issued to Russian citizens in Thailand.
"We have no doubts that Thailand's law enforcement agencies are effective in their work and able to provide safety and security for the Thai people, and foreigners living here and visiting Thailand as tourists," Kirill Barsky, Russia's Ambassador to Thailand told RBTH.
All rights reserved by Rossiyskaya Gazeta.