Power supply to Crimea fully restored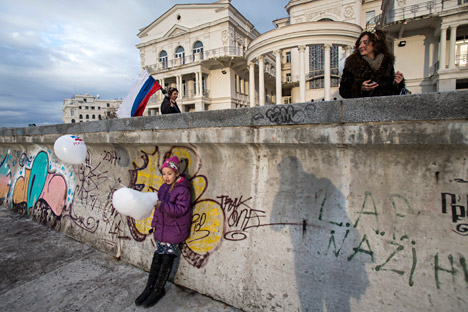 People walking along the enbankment in Sevastopol.
Reuters
Peninsula now receiving energy from both Ukraine and Russia
The Russian Energy Ministry has reported on the restoration of power supply to Crimea in full. According to the official statement, as of 11:30 a.m. Moscow time on Dec. 8 there are no longer any blackouts on the peninsula.
Crimea is now receiving energy from both Ukraine and Russia.
Power from Ukraine is being supplied along the 220-kilovolt Kakhovskaya-Titan-Krasnoperekopsk transmission line, with a maximum flow capacity of approximately 160 MW.
The power capacity to Crimea from Russia's southern energy system is 200-260 MW.
Supplies came to a complete halt in the early hours of Nov. 22 when several pylons carrying power lines to Crimea were blown up by Ukrainian and Crimean Tatar activists in Ukraine's Kherson Region. Electricity was supplied via four lines: three 330 Kv and one 220 Kv line.
All rights reserved by Rossiyskaya Gazeta.