Russia probing airliner bombing in Sinai in cooperation with Egypt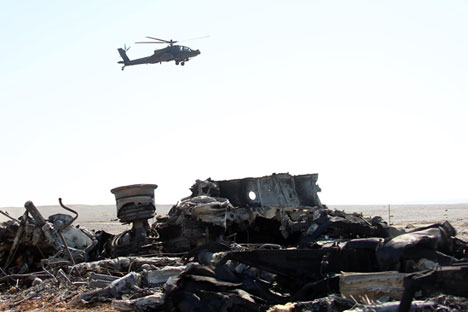 Wreckage of Russian Airbus A321 at the site of the crash in Sinai, Egypt.
AFP / East News
A Kogalymavia A321 aircraft crashed on Oct. 31
Russia is working in close collaboration with Egyptian special services in investigating the bombing of a Russian Airbus A321 airliner in the Sinai Peninsula, Russian Foreign Minister Sergei Lavrov said.
"We are cooperating very closely with Egyptian special services to find out how the terrorists managed to accomplish all that and what needs to be undertaken to fully eliminate such risks," Lavrov said in an interview with Italian media outlets.
A Kogalymavia A321 aircraft en route from Sharm el-Sheikh to St. Petersburg crashed in the Sinai Peninsula 23 minutes after takeoff, killing 217 passengers and seven crewmembers on board, on October 31.
A week later, on November 6, Russia banned air transportation services to Egypt. Tour operators and travel agents were advised to suspend sales of tours to the country.
Russian Federal Security Service Director Alexander Bortnikov said later, that the airliner crashed as a result of an explosion of a bomb on board, which was equivalent to one kilogram of TNT.
All rights reserved by Rossiyskaya Gazeta.